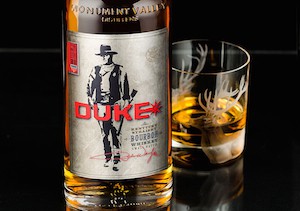 John Wayne was the internationally famous stage name of Marion Mitchell Morrison (born Marion Robert Morrison). He was an actor, director, producer and Academy Award-winner. Wayne was among the top box office draws for three decades. Described by many as an "enduring American icon", he epitomized rugged masculinity and is famous for his distinctive calm voice and bow-legged walk. The man universally known as the Duke now has a bourbon made to honour him.
Duke Small Batch Kentucky Straight Bourbon Whiskey is a straight bourbon whiskey that is made by marrying together casks of bourbon that have aged for between five and ten years. The bourbon is crafted in homage to John Wayne. Created by Ethan Wayne (Duke's son), the bourbon's flavour profile was made to reflect Wayne's personal whiskey preferences, which were preserved for over five decades and were only recently discovered.
The bourbon has a distinctively fruity aroma, with notes of nutmeg, maple syrup, caramel, toffee, roasted corn and mellow char on the palate. The finish is bold and spicy, with a hint of cloves, rye and ginger.
"My father thrived on new projects and adventures and he always loved a great glass of whiskey at the end of the day," says Ethan Wayne. "Our goal with the Duke was to make a bourbon that embodies the spirit, strength and richness my father personified while realizing his unfulfilled dream of distilling fine spirits."
Source: Caskers – www.caskers.com