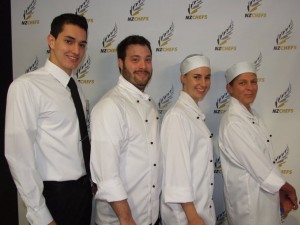 The Culinary Institute of New Zealand battled it out in the kitchen to scoop the top spot in the City & Guilds New Zealand Team Skills competition, one of New Zealand's premier hospitality industry competitions.
The competition, which is part of NZ Chefs National Salon, saw seven teams of trainee chefs and restaurant service staff from industry training establishments and hotels go head to head yesterday to cook and serve six plates of a three course meal to the panel of judges and guests.
The City & Guilds New Zealand Team Skills winner is the team that retains the most marks overall from the three categories: kitchen work, tasting of the dishes and all elements of the restaurant service.  The competitors were to have no more than 4000 hours work experience.
The Culinary Institute of New Zealand's winning team comprised chefs, Chelsea Johnston and Tracy Todd and front of house, Daniel Alzate Echeverri. 
Their three course menu was:
Entrée:  Puhoi Valley Kaipara Wash Rind Cheese with beetroot, filo and herb olive oil (matched with Single Vineyard Nelson Pinot Rosé 2014)
Main: roasted Cervena Venison wrapped in tamarillo with smoked potato, savoy cabbage, baby carrots, rocket puree and jus (matched with Marsden Estate Tempranillo 2014)
Dessert: Peanut crème with sour dough cocoa soil, dark chocolate, black currant and raspberry caviar, berry foam and gel
Head judge, Mark Wylie, General Manager of Cater Plus said the calibre of all students was a credit to their trainers and coaches but the Culinary Institute of New Zealand team stood out for their innovative and professional performance. "Their dishes were innovative and contemporary and were to such an impressive standard that they could have been served in a top restaurant." 
Culinary Institute of New Zealand's Head Tutor, Jon Sefton, said it was wonderful to see his team get recognition for all their hard work.
"We have been training since March, practicing over and over again, tweaking and refining and we pulled a lot of late nights.  The team have been hugely enthusiastic and dedicated so it is great that they have been rewarded for all their hard work. " 
The Institute's team captain, Mat Fulton, continued, "This has been a massive achievement for the students and they are all the better chefs for it.  It has really helped solidify the teachings and given them the confidence to know they are entering the industry in great form."
The team were awarded the Training Team of the Year trophy and a prize package valued at over $7000.  Each of the three team members received $1000 cash, FÖRJE cookware valued at over $400 and a gift box of Barker's products.  The training establishment received $1000 Bidvest voucher, a $500 voucher from Choice Catering Equipment Ltd and the Team Manager received $1000 cash and a selection of food books valued at over $500.
Head judge, Mark Wylie said this year's competition saw a combination of training institutes and industry based teams that took the competition to another level.
"We welcomed two industry teams alongside many of the country's leading training institutes and it was great to see newcomers to the industry have their chance to shine.   So much training and assessment  is done on the job and their performance is reflective of the training standards and culture at their workplace.  Next year we hope to see more industry teams compete." 
The Culinary Institute of New Zealand team also collected the Innovation Award, which was given for creative use of Bidvest Smart Choice Bake Your Own Sour Dough bread in a dessert. Their dessert, Peanut Butter Crème featured a novel Soil made from the sour dough bread which was toasted, covered with a cocoa, salt and sugar mix, coated with butter and baked before being presented as cocoa soil.