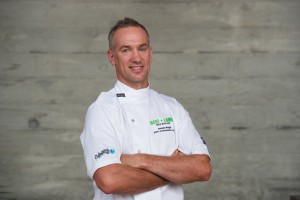 Award-winning Christchurch chef and entrepreneur Darren Wright has been appointed as Chief Judge of this year's Nestlé Toque d'Or student culinary competition.
The event – which celebrates a 25 year milestone birthday this year – pits the country's top young culinary talents against each other in a live kitchen cook off.
NZChefs National President and organiser of the event, Graham Hawkes, said Darren's strong international and local experience made him an ideal choice for Chief Judge. "Darren is a highly successful chef whose expertise is widely sought after both in New Zealand and overseas. He was a very effective Chief Judge at the 2012 event and we are thrilled that he has agreed to, once again, take on the role."
Darren began his cooking career at the Crowne Plaza (formerly the Park Royal) in Christchurch, where he won the 1999 SPHC Junior Chef of the Nation title. With his wife Leanne, he set up and ran the award-winning Harbour 71 in his home town of Akaroa. During the years they operated Harbour 71 it became a destination for local and international foodies visting the area. With their plans to open a central Christchurch restaurant thwarted by the earthquakes, they eventually opened Chillingworth Rd at the end of 2012. Chillingworth Rd is a combination bar, dining room, cook school and kitchen store.
During his career he has been awarded many top accolades and more recently was named as a Platinum Beef + Lamb NZ Ambassador Chef, a lifetime status awarded to Darren in recognition of his outstanding achievement over the years in the Beef and Lamb Excellence Award programme. Darren is also vice captain of the New Zealand Culinary Team (NZCT) and has been a team member for nine years.
Despite working long hours at his restaurant and competing internationally, Darren said he 'jumped' at the chance to reprise his 2012 role as Chief Judge at Nestlè Toque d'Or. "Having worked as a Chief Judge it reinforced my view of the importance of this prestigious event for helping to launch the careers of many New Zealand culinary students," Darren said. "Many of the competitors go on to achieve great things on the international stage and it's incredibly rewarding to have seen them in action at the start of their careers. Competing at Nestlè Toque d'Or sets you apart from other candidates when you're looking for a job. It clearly signals to a future employer that this is someone who has been identified as having the potential to do well in what can often be a tough and demanding industry."
A Nestlé Toque d'Or win is highly sought after not only by the competing students but also the training institutions. Under the guidance of their tutors, students spend months preparing for the competition, perfecting a three course meal for six people and practising delivering each course to three diners and the judges all within a set timeframe.
The 25th Nestlé Toque d'Or will be held on 30 July 2015 at the Auckland Showgrounds. An awards dinner will be held later in the evening where the winning team will be announced.