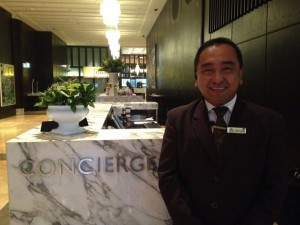 SKYCITY Grand Hotel Concierge, Jose Leano, is one of New Zealand's newest members of Concierge society, Les Clefs d'Or, adding to SKYCITY Grand Hotel's growing team of Les Clefs d'Or members. Les Clefs d'Or is the top professional society for Concierges in the world. Members are known for their extraordinary service and identified with the iconic 'crossed golden keys' insignia on their lapels.
SKYCITY Auckland Grand Hotel Manager, Colette Leonard, says the Les Clef d'Or is an internationally recognised and notoriously tough to get in to, gaining membership is a true mark of exceptionally high standards in the hotel Concierge profession. "We always strive for excellence and Jose's acceptance into the society is a great endorsement and demonstrates that our staff deliver exceptional customer service, this is fantastic news is the icing on the cake as we celebrate our tenth Birthday this month!"
SKYCITY Concierge, Jose Leano, says gaining acceptance into the society is the 'Holy Grail' for Concierges worldwide. "I'm honoured to be wearing the famous 'golden keys', and very thankful for all the support from my colleagues and manager to work towards this achievement."
Across both SKYCITY Hotel and SKYCITY Grand Hotels there are five Les Clef d'Or members, the most at a single property in New Zealand.
Les Clef d'Or applicants must have at least five years experience before they apply for membership, and their application must be put forward and seconded by existing members. Successful applicants are tested on local insight and knowledge on key tourist destinations across the country before completing a panel interview.
The Les Clef d'Or society was started in 1929 in France, and supports professionalism and best-practice service in the Hotel Concierge service industry. The society offers members international information and support networks. There are around 3800 Les Clef d'Or members worldwide.