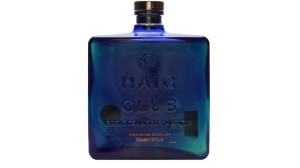 An iconic English football star and part-time underwear model has teamed up with the man who unleashed Pop Idol, American Idol and even New Zealand Idol on the world in order to promote a new whisky. David Beckham and Simon Fuller have launched the whisky – Haig Club – and will help develop the brand. To give a sense of the star power they bring, the television advertisements were directed by Guy Ritchie, director of Lock, Stock and Two Smoking Barrels, and the two Sherlock Holmes blockbusters.
Neither Beckham nor Fuller will be involved in distilling or blending Haig Club, a single grain, no-age-statement Scotch whisky. That role remains with master blender Chris Clark. He combines a variety of aged whisky from three types of cask, including American Oak. The company describes the flavour as "showcasing butterscotch-smooth tropical fruit and unexpected, spicy backing harmonies."
Because of the shape and colour of the bottle, many thought Beckham was releasing a new cologne. However, the company says the bottle was inspired by the tradition of blenders using blue tasting glasses to review spirits based on nothing but taste and aroma.
Haig Club is now available in Britain and will launch in America, China, South Korea, Vietnam, Malaysia and Singapore shortly. The choice of markets reflects the huge importance of Asian drinkers to whisky makers. Bottles are retailing at a relatively reasonable price of around NZ$100 but it is not known if any is coming to New Zealand.