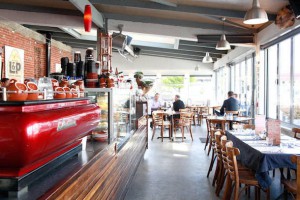 For the second year in a row a South Island café has been judged the nation's best, with Dunedin's Ironic Café taking out the Café of the Year title for 2014 from 18 finalists throughout New Zealand.
Ironic Café was built from scratch and is owned by Sue Moller and Steve Wilson, who opened it in 2007. Their winning dish was a Spring Stack comprising sautéed fresh local asparagus, chorizo and fresh spinach served with roasted tomato, poached free-range eggs and vibrant avocado crème on Ironic's freshly baked ciabatta. It was prepared using Wattie's frozen avocado and Meadow Fresh sour cream.
Head judge Kerry Tyack says Ironic is "a truly delightful and well managed café propelled into the winners' circle by its loyal customers". He added "Ironic has it all; a busy, upbeat atmosphere, great staff ably led by the owner determined to make your visit enjoyable, an extensive selection of cabinet food to tempt you as well as superb coffee. You can just pop in and grab something to take away or you can sit and linger, inside or out, read the paper or a magazine while soaking up the ambience in an environment that epitomises New Zealand's burgeoning café culture."
Marisa Bidois, CEO of The Restaurant Association of New Zealand says with record entries this year the competition has been tough. "The café culture is such an important part of our ethos here in New Zealand and it's wonderful to see such a diverse representation in the finalists. A big congratulations to our deserving winners."
The Dunedin café fought off challenges from regional winners in Auckland, the Upper North Island, Lower North Island, Wellington and Christchurch as well as cafés from the wider South Island. For their win, in addition to the kudos of running the country's best café, Sue and Steve drive home a sporty Renault Clio R.S. 200 worth more than $30,000.
The competition is now in its third year and more than 39,000 café lovers across six regions voted for the 1,123 eateries that entered – 454 more than in 2013. Entrants needed to create a dish to feature on their menus comprising at least one of a specified range of Wattie's and Meadow Fresh products.
Judging of New Zealand Café of the Year involves a rigorous assessment of each café with the process comprising three tiers of judging, a hallmark of the competition. Judges are looking for a combination of stylish ambience, a warm welcome, attentive service as well as appetising and satisfying food and drink. Overlaying all this is a conscious celebration of the entrant's region, its produce and any features that make it special. There also needs to be clear evidence of the wow factor that keeps happy customers coming back to the café.
The finals judges include people from The Restaurant Association of New Zealand as well as a number of independent food writers and hospitality industry professionals. They began their deliberations in late October visiting each café incognito until 24 November.