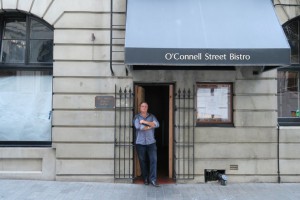 O'Connell St Bistro owner Chris Upton believes every cloud has a silver lining. For Upton and his 14 strong team the cloud is that the award winning restaurant is expected not to reopen until August after last month's kitchen fire.
The silver lining is that other businesses and charities are destined to benefit from O'Connell St Bistro's misfortune. The restaurant's kitchen was gutted during the 27 January fire and the bar and dining area sustained significant smoke damage.
In the meantime, Upton intends to keep himself and his team as busy as possible with a range of different initiatives. "We'd like to look at assisting other businesses and charities by way of donating the O'Connell Street Bistro team's skills to worthy causes and businesses while we are closed.
"Originally we thought we'd be shut only for a few weeks but it appears that the renovations will need to be more extensive than first thought."
Upton says the types of activities he is working on include the team supporting the Flavours of Fiji emergency food and cultural fundraising event in aid of Cyclone Winston which took place on 20 March and staff being deployed to other Auckland restaurants within the neighbourhood two days a week. Upskilling staff with masterclasses from the Bistro's food and beverage suppliers is also in the plan, along with helping with vintages at various vineyards around Auckland including Waiheke.
"We would like thank all our regular and loyal clientele for their outpouring of support and are very sorry for any inconvenience caused by this event," Upton says. "Our building has stood the test of time since 1914 and in addition O'Connell Street Bistro is also close to approaching its 20th anniversary so we can assure everyone we'll be back stronger than ever."