Wendy's first back in Christchurch CBD with a new look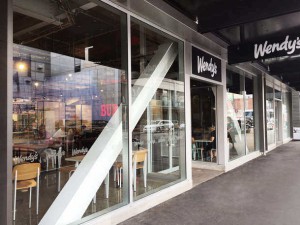 The first burger chain to reopen in the Christchurch CBD, Wendy's new Hereford St restaurant features a more premium fast casual look set to be rolled out nationwide.
With Wendy's previous city outlet closed by the 2011 earthquake only three months after launch, its new offering looks more contemporary burger joint than typical fast food chain.
Gone is the usual red and yellow livery, replaced with a more pared back industrial mix of timber, black and white, blackened steel and concrete to create more premium, relaxed environment. Light boxes have been replaced with simpler menu boards, with hard copy menus also on hand.
Even the Wendy's logo features in black and white, with crew wearing a more casual black t-shirt, denim jeans and cap. Kiwis will also be pleased to learn Wendy's unique foil hamburger wrap is making a comeback after being removed five years ago.
In keeping with the fast casual ethos, customers will be able to sit and relax while their order is delivered to their table. Back of house in the kitchen, more space efficient sandwich stations, LED lighting and energy saving dishwashers make this the chain's most environmentally friendly restaurant to date.
Wendy's NZ CEO Danielle Lendich says it's good to be back in the city. "Hereford was our first South Island outlet and Cantabrians had given us such a warm welcome and were just getting to know us when the disaster hit.
"As the first major burger chain to reopen in the CBD, we are proud to be part of its regeneration. With 3,000 people expected to work in the building, we're certainly in good company. The internal thoroughfare linking Hereford and Cashel Streets should also provide good foot traffic."
Unique to Wendy's in New Zealand, Lendich says the new premium look is a response to Kiwis' increasingly sophisticated tastes. "Internationally Wendy's is recognizing that some markets are different and should be treated as such. Take Wendy's India for example which opened last year, their menu is 'beef-free' and they've been the first in India to offer a casual-dining experience at a quick service restaurant price.
"Here, Kiwis are becoming much more discerning when it comes to what we eat and to eating out. And as a locally-owned family business in a relatively small market, we can be nimble and embrace trends much faster than in other markets.
"Our prices are still quick service but these days we source virtually all our ingredients locally. We only use fresh New Zealand Quality Mark sourced pure beef, whole chicken breasts and fish fillets unlike our competitors. Our New Zealand bacon wins awards, our Colby cheese is natural and our specialty buns are made by hand using real eggs and butter."
Since opening in the South Island, Lendich says Wendy's has also worked hard to minimize food miles and use as many local suppliers as possible. "It would be ridiculous to bring Tally's fries from Ashburton to Auckland and then send them back to Christchurch for example, so Tally's delivers direct to our South Island restaurants."
Lendich says the new Hereford St is creating 30 new part- and full-time jobs, all of which have been filled locally. Construction has also created jobs locally with Christchurch contractors Hanham & Philp responsible for the fit-outs of both CBD outlets.
Hereford St brings the total number of Wendy's in New Zealand to 23 following other recent openings in Dunedin and Hamilton. Lendich says new sites in Whangarei and Albany are also on the cards. In Auckland, the company's Dominion Road and Royal Oak restaurants are also in the process of being refitted, with makeovers for Greenlane and Botany Downs scheduled for later in the year.
.