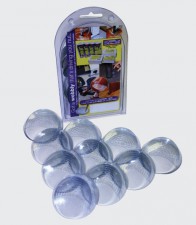 Good bye to annoying wobbly tables in restaurants, cafes and bars. The Wobbly Wedge is an innovative product which the manufacturers say is "silly by name, serious by nature."  It is basically a concave plastic stabiliser which is incredibly versatile around a hospitality venue.  The product is so deceptively simple that people wonder why no one thought of it before.
Wobbly Wedges work to stabilise wobbly tables (much nicer looking than a coaster), jam doors and windows open, reduce noise under fridges and dish washers, hold furniture on slippery floors and tiles, keep washing machines steady and act as castors under couches and other furniture to protect your floors.  The wedges are equally useful under office equipment, outdoor furniture, pot plants, BBQs and workshop equipment. 
The product is "Well Made in New Zealand" and is available on-line or from a range of distributors around the country including Bunnings Warehouse and Gilmours.  TheShout just found out about the Wobbly Wedge and immediately bought a pack to ensure our office stays on the level.
For more information see – http://www.wobblywedge.com/