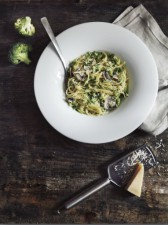 Barworks Hospitality Group has brought 'goode food' and 'goode times' to the heart of New Lynn with the November opening of Goode Brothers at The Brickworks. Goode Brothers New Lynn is the group's second Goode Brothers eatery in Auckland, a market hungry for delicious food combined with a great experience.
With a hunger-busting menu including gourmet handmade pastas, pizzas and summer salads, Goode Brothers sets out to sate appetites and create an ambient mood. The New Lynn restaurant will make full use of The Brickworks' indoor-outdoor flow, which allows diners to bask in the sun and later admire the dining lane's fairy lights while hanging out with friends and family.
There is more on offer than the menu, too: connoisseurs and foodies can partake in Goode Brothers pasta chef classes, where groups of up to 10 can perfect the art of preparing handmade pasta.
Ren Waikato, General Manager of Goode Brothers New Lynn, says he wants to seize the opportunity to bring good stuff to the New Lynn community. "We see Goode Brothers as a community hub – we like to know everyone's name and follow the philosophy that there is always room at the table."
Goode Brothers has added 40 new jobs to the New Lynn community, which have all been filled by talented locals who share the Goode Brothers community focus. "We held a recruitment day at the local community centre where job hopefuls took part in an interactive job interview that included stand-up performances and live questionnaires. What makes Goode Brothers good is our staff's ability to foster great relationships with our customers, and to do that, you need a bit of a performing edge."
Further cementing Goode Brothers' commitment to community, the New Lynn restaurant aims to be able to sell its made-on-site pasta and pasta sauces at the local markets sometime in the near future.