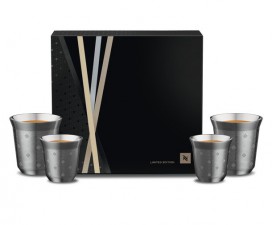 Get Christmas shopping done early this year with Nespresso's range of luxurious gifts. From stylish machines and stunning accessories to the new Limited Edition Variations coffee range, there is a plethora to choose from.
Inspired by the warming aromas of the festive season, Nespresso's latest Variations Grand Cru range features Vanilla Amaretti, Ciocco Ginger and Vanilla Cardamom and promises to tantalise the senses. Its combination of rich dark chocolate, comforting vanilla, sweet almond, aromatic cardamom and spicy ginger notes offers the perfect indulgence during the festive season.
As well as the delectable Variations range, Nespresso's collection of striking accessories, including sleek travel mugs, sophisticated capsule dispensers and chic Espresso cups, make the perfect gift for the style-conscious coffee connoisseur. This season's Limited Edition Collection has something for everyone and will provide unique, memorable gifts, which can be enjoyed long after the festive season.
Available from 9 November, for a limited time, the Variations range is also available as a special 3-sleeve pack.
Limited edition gifting options include:
PIXIE Cups Espresso & Lungo Kit
A set mixing 2 PIXIE Espresso & 2 PIXIE Lungo cups for the first time, packed in a premium gift box. Double walled uncoated cups in stainless steel decorated with the engraved Nespresso monogram pattern, for fans of modern design.
RRP: $75
VIEW Bonbonnière Capsule Dispenser
A stylish addition to any kitchen, this stunning capsule holder is a great gift for any Nespresso machine owner. Coated in gunmetal silver, the face is decorated with the Nespresso monogram pattern (facing only), packed in a premium round gift box.
RRP: $40
TOUCH Compact Travel Mug
For the busy commuter in your life, this contemporary travel mug wouldn't look out of place next to the smartest suits. In matte black finish and ideal for two Lungo coffees, this double walled travel mug will keep hot drinks steaming and cold drinks cool, making it the perfect travel companion.
RRP: $25
Petits Carrés Chocolates (Caramel or Cocoa Nibs)
The Petits Carrés selection has been created to perfectly complement the Nespresso coffee tasting experience. Choose either Dark Chocolate with Cocoa Nibs, or Milk Chocolate with Caramel.
RRP: $12 box of 40