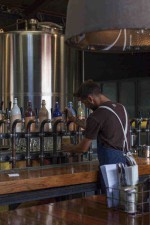 Marking a decade since the first beer was poured, Auckland brewery and restaurant Hallertau have celebrated their tenth anniversary with the opening of a new biergarten, a subtropical oasis under a colossal retractable canopy for year-round cover designed to keep guests warm and dry, and the beer cold.
Known for their fresh and tasty beers brewed right beside the bar, honest food, and a full and lively music calendar, owners Hayley and Steve Plowman commissioned architect Allistar Cox to design the brewery extension boosting Hallertau's capacity to 250 guests.
Allistar's portfolio includes Golden Dawn, Matterhorn in Wellington and Town Mouse in Melbourne.  His hospitality pedigree is revealed in Hallertau's lush new space, anchored by a new outdoor kitchen running the length of the spacious biergarten and featuring a wood fired pizza oven and smoky chargrill. Under palm trees are banquet and small tables with heated seats, and the popular kids' playground remains at one end, now enclosed with a climbing wall and new outdoor games offered to big kids.
The new decade marks the coming of age of Hallertau, a pioneer in New Zealand's beer scene. A special anniversary brew named 10 has been created by Steve, also Hallertau's Captain of Beer.
"Our '10' anniversary brew is a high strength top-fermenting ale that is an excellent match with cigars or dessert.  The secret ingredients in 10 are neither fine hops nor prized barley, but rather the good buzz from the many friends, patrons and family who have imbibed and enthused about Hallertau beers over the last ten years," he says.
Chef Michael Van de Elzen has returned to Hallertau to create a new menu offering sharing plates that are more refined and less fried than typical 'pub food'; like fresh molluscs of juicy local clams or mussels cooked over charcoal embers, traditional wood fired pizzas with blistering mozzarella cheese and from the 'pans' menu, options include pulled lamb shoulder rubbed with the sweet and spice of Ancho chillies.
Says Hayley, "We are chuffed Mike is involved with us again, creating bold beer and food matches and a unique dining experience. The biergarten is another addition to our brewery, bar and restaurant which also offers a calendar packed with live weekend entertainment including our popular Month of Sundays programme.
"We have always wanted to lift the beer experience in New Zealand.  Guests can get a tasty beer with great food and live tunes when they come to us in Riverhead; and we're only 20 minutes' drive northwest from the CBD."