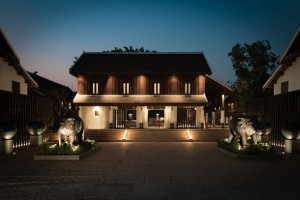 Home to historic temples and elegant French provincial architecture, Luang Prabang, the UNESCO World Heritage Site, is a riot of colour: the green of the trees contrasting with their bright blossoms and the saffron robes of the ever-present monks. Life is enjoyed slowly and vividly in this town and at the elegant Sofitel Luang Prabang, the century-old former governor's mansion protected by UNESCO, which has been restored to its full grandeur and majestic grace.
"The hotel is a gem, complementing the timeless splendour of Luang Prabang and offering luxury travellers the quintessential Sofitel experience: an authentic blend of local culture and French art de vivre," said Patrick Basset, Chief Operating Officer for AccorHotels, Upper Southeast and Northeast Asia. The hotel serves as a gallery, housing an array of Indochinese art and a wine cellar and library with one of Luang Prabang' s largest collection of books.
Sofitel Luang Prabang, which is surrounded by a lush tropical garden, boasts 25 clay-roofed suites, ranging in size from 46 to 120 square metres, each with its own private garden, oversized bathtub or private pool. Shuttered windows, hand-carved poster bed frames and exquisite Lao artefacts nurture a sense of old-world nostalgia, enhanced by 21st-century amenities such as flat-screen televisions, Wi-Fi and the signature plush Sofitel MyBed.
"I think that what guests will find most captivating at Sofitel Luang Prabang is the fusion that occurs on so many levels," says General Manager Pablo Barruti. "Heritage is married with modern comfort. And the enduring tranquillity, both within the verdant gardens and just outside in the serene residential quarter, will appeal to guests in search of refuge in this age of sensory overload."
The hotel restaurant, Governor's Grill, offers a delectable blend of fine western gastronomy and traditional Lao cuisine with its distinctive spices and flavours. Guests enjoying the restaurant can choose cosy indoor seating or al-fresco dining in a colonial-style tent overlooking the garden, both of which offer unforgettable ambiance. Private candle-lit dinners can be arranged for those seeking an extra special evening.
Guests can take the tastes of Laos home by joining a journey into the heart of local culinary traditions, starting with a morning market tour to learn about local foods and a half-day cooking class on authentic Lao fare, followed by a savoury meal to sample their creations.
The hotel also presents ample opportunities for relaxation and rejuvenation. Its lush gardens and the private garden adjoining each suite are befitting of repose and meditation. LE SPA offers treatments and therapies that combine ancient Lao healing techniques with local organic products and the latest advances in skin care. Guests can also choose 'Blind Massages', which are provided by local community members with disabilities as part of the hotel's sustainable development initiatives, and are slightly more vigorous and intense than usual due to the heightened senses of the therapists.