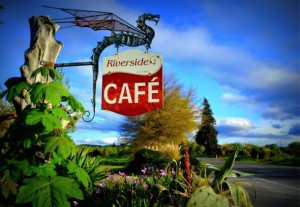 'Sustainable', 'organic', 'local' and 'ethical', collectively known as SOLE, are the main buzzwords driving hospitality trends today. But these concepts are nothing new to the unique and long-established Community behind the café in Motueka near Nelson.
These SOLE concepts have been the cornerstone philosophies of the community established more than 70 years ago, and for the café which opened in January 2000.
Originally formed during World War II by a small group of Christian pacifists and conscientious objectors, the Riverside Community residents wanted to practise ways of living based on principles of peaceful, co-operative and sustainable living.
Seventy years on, the now non-denominational community is still going strong. It's New Zealand's oldest intentional community and is recognised globally. The Riverside Community Charitable Trust runs several businesses on-site – a dairy farm, shop, organic gardens, orchards, hostel, and a large centre for hosting events and workshops as well as the Riverside Café.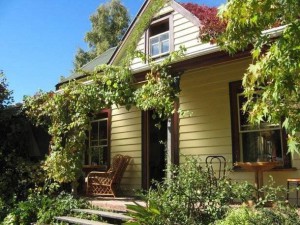 When Dr Larry Powell, research mentor at AUT's School of Hospitality & Tourism, delivered a hospitality-focused paper titled 'Empathy vs Cynicism' at a conference in Nelson recently, he stayed at Riverside and dined regularly in the café for one week.
His conference paper – with co-authors Lindsay Neill, David Williamson and Warren Goodsir – looked at the attitudes of workers in hospitality and other workplace environments.
Coincidentally, by staying at Riverside, Powell had the perfect opportunity to further observe exemplary hospitality in action, and specifically what it was about the café, food and the staff that made him feel so welcome.
"I experienced the best hospitality of my life and some of the best food I've ever eaten," Powell says. "I was treated as part of the community and was beyond impressed."
American-born Powell says Riverside staff went out of their way to make him feel welcome, exuding friendliness from the pores of their very being. "This wasn't from a conscious ideology, it is simply because of the way they are," he says.
Despite his dietary condition that demands less spicy and acidic food, the kitchen team was willing to adapt the menu in order to cater for their delighted guest. "They regularly made me a salad and it was the most beautiful I've ever eaten. Chef Jenny Lomas and the team have a great rapport and work in sync to create something beautiful. It's like the zen of cooking," says Powell.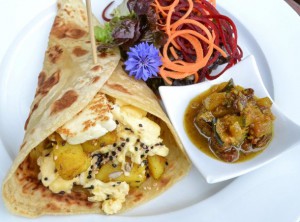 The salad was a mix of leaves from the café and community organic garden and included oak leaf lettuce, rocket, baby spinach, miners lettuce, mizuna, spiralised carrot and beetroot, sprouted seeds (alfalfa, flax, rocket, black mustard, crimson clover and fennel), and the house dressing made from palm sugar, lemon juice and extra virgin olive oil.
Reluctantly leaving the community, Powell says he felt healed. "Surrounded by relaxed people, my sense of humanity was restored. It was a completely authentic experience and the wholesomeness and uncontrived ambience of the café made everything taste better."
Lomas says the founding principles of the community remain intrinsic to the café's management today, that of sustainability and co-operative management. In its idyllic rural setting and located in a charming, historic 150-year-old homestead, the café serves inspiring, delicious food, wonderful coffee, fantastic cakes, brioche and bread that are all baked daily on-site.
Asked what gives the café its friendly caring vibe, Lomas says, "The staff team is like a family. The cafe building, for more than a century, was a family home, so having people visit re-creates having friends over for dinner. As the 18th century French lawyer Jean Brillat-Savarin says, 'To receive guests is to take charge of their happiness during the entire time they are under your roof,' and happiness has to include what we feed our guests and how we treat them."
In summer, there's alfresco dining in the garden and in winter, guests sit beside the log fire. A sheltered deck allows all-year dining as well. The menu changes seasonally, with delicious vegetarian and meat dishes, and local specialties such as wild goat and pork very much a part of the menu. Most produce used comes from the community's own extensive two-hectare organic gardens.
The café is open all year, with a dozen people or so required to run the venue, most of whom live in the Riverside Community including Franka Haeussner (café manager), and Charles Mersmans (front-of-house), who has been the host since the café opened.
Covers respond to the seasons: throughout autumn and winter, 15 people might call in for lunch, and in summer the numbers can swell to around 130 a day.
Lomas joined Riverside Café in May last year, having been familiar with the community for nearly two years. An employee living off-site, she's previously worked for community-focused hospitality and healing ventures in the Coromandel – the Green Snapper Café at Colville and Mana Retreat Centre.
Training as a chef in London in 2010, her first job was in a Buddhist centre café which was open to the public. While her experience and training certainly encompasses the spiritual realm, Lomas is quick to point out, "I was never taught to relate to either foods or customers in a certain empathetic way. But the Buddhist chefs I worked with clearly loved cooking and loved hospitality, and for sure I picked up on that love and responded to it. It inspired me."
While Riverside Café's philosophy is certainly to use as much home-grown, local and organic produce as possible, it's not a strict rule. Most of the fresh produce used comes from the community's own 40-year-old organic gardens, and local and organic ingredients are used whenever practical and/or logical.
"We use organic where there's a logical fit," Lomas says. "Our garden supplies a lot of our produce needs but for other produce and products, we do buy in as well and make a judgement call about buying organic. We prefer to buy it but don't always. For example, if there's another product that is of better quality in other respects we'll buy that."
Building strong relationships with ethical suppliers that are committed to producing quality products inspired by SOLE is pivotal to Riverside Café, which similarly strives to serve the best food it possibly can.
"We favour wild meat from specialist suppliers rather than from supply chains that specialise in mass-produced lines. We find the meat tastier and leaner and Premium Game from Blenheim is a favoured supplier," says Lomas. "We look for the best and have a foot in both camps.
"We also like to be a little quirky. For instance, we never bake the ubiquitous muffin, instead we bake sweet and savoury brioche. We steam mussels in local cider rather than white wine, and our breakfast sausages are made from wild rabbit. We offer locally made honey mead as well as all local beers and wines."
Although carbon miles associated with the products they buy in are a concern for café management, they currently buy salmon from Stewart Island. "There is no right answer when it comes to local vs ethical vs environmental," says Lomas. "It's tricky, but we are just feeling our way as to what seems most beneficial for the bigger picture."
According to the Oxford Dictionary, the definition of hospitality is the 'friendly reception and treatment of guests or strangers' and Powell observes hospitality as "the power of interpersonal empathy, human being to human being."
The main finding from his 'Empathy vs Cynicism' paper was that the, "stronger the sense of empathy for others (customers and other employees) in the workplace environment, the greater the reported job satisfaction and the lower the burnout. Holding a cynical worldview had the opposite effect, however, with lower job satisfaction and a higher burnout among employees."
So, has Larry Powell found hospitality's holy grail in the South Island? Based on the experience he enjoyed at Riverside, one thing's for sure: he has found his shining beacon of exemplary hospitality and he's still raving about it to anyone who'll listen.
"There was love in that food," he marvels. "It was physically artistic and like art for the palate. If this sounds too syrupy and good to be true, it's every bit as good as it sounds."