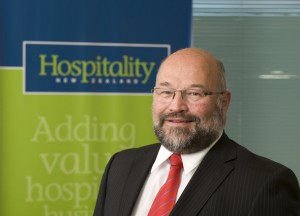 CEO of Hospitality New Zealand for the past 20 years, Bruce Robertson has resigned from the association to pursue a lifestyle change and follow further opportunities as he heads into his "third career."
Robertson and his wife Barbara are relocating to their Wairarapa property in the New Year and he plans to undertake some governance roles and project work utilising his strong governance advocacy and problem solving skills. 
"No, this is not retirement," Robertson says. "After almost 21 years it is time for someone else to step up as the advocate for the "fun" industry. It has been a great ride and I leave on a high having just completed a "best ever" conference and very successful Know your limits campaign."
Robertson is an experienced lobbyist who first began interacting with cabinet ministers when he was in his early 20's. At that time he was Federated Farmers' advocate for the arable and transport sectors. Since joining Hospitality NZ in the 90's he has led a revival of the organisation, seeing it grow from 700 members covering mostly bars, to 2,400 members today representing the breadth of the hospitality industry from cafes to luxury lodges.
President of Hospitality NZ, Adam Cunningham said the association is what it is today in a large part due to Robertson's passionate advocacy and energy. But for now, we're working through the transition and starting a comprehensive recruitment process.
The Hospitality NZ board agreed that Cunningham will step in to oversee HNZ operations, help in the transition process and manage the amalgamation with MANZ – the Motel Association of New Zealand. "It's likely to take some months to find a suitable replacement for Bruce and we want to ensure services and support aren't compromised in the interim," Cunningham says.