Inner city Esquires café serves up fresh transformation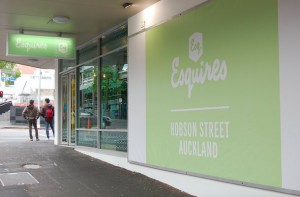 Aucklanders looking for a central city café for their morning coffee, breakfast meetings and casual lunches have been dished up a new and improved offering.
Esquires Hobson Street swung open its new doors late last week, revealing not only a completely refreshed new look, but a totally revamped food and beverage menu as well. 
Three months ago, Esquires Hobson Street commenced the transformation – encompassing everything from its fonts to its flat whites.  And now the improved, modernised version of the café that many Aucklanders frequent is open once more to fuel the lives of those living and working in the inner city.
Esquires Hobson Street franchisee Seven Liu was quick to embrace the transformation after seeing positive results at other refreshed Esquires cafes and anticipates customers will enjoy the updated offering. 
"We're excited to be able to share our new look and feel café with both our regulars and new customers today. For the first time, we also have a made-in-store food menu which includes hot favourites such as eggs florentine and homemade granola," says Liu.
The transformation came about following an internal survey last year that confirmed that consumer's tastes had evolved and the Kiwi coffee palate and coffee scene had changed since Esquires arrived on the scene 13 years earlier. 
The Hobson Street store is one of the first in New Zealand to deliver Esquires' improved coffee flavours which Andrew Morgan, General Manager of Café and Bakery, Retail Food Group Limited NZ says will be a hit with busy inner-city consumers. 
"We've worked tirelessly to create something unique to stand out in the crowded café chain world; a playful, personality-filled space for Kiwis to get great coffee just as they like it," Morgan says. 
Esquires Hobson Street is the first Auckland café to embrace the change, and is set to provide city dwellers, professionals and tourists with a comfortable and fresh environment to gather for a warm drink, breakfast or lunch. 
Other Esquires stores in Auckland are looking to follow suit later in the year.
.