Instant Gourmet Style Kumara Mash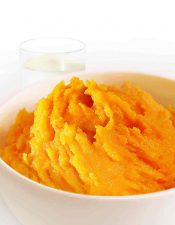 Developed by Nutritious Foods Ltd, Instant Kumara Mash is a new addition to their wide kumara product range. Instant Kumara Mash is high in dietary fibre, rich in vitamin A, and full of nutritional benefits. It is gluten free, non-GM and has no artificial flavours, colours or preservatives. Instant Kumara Mash is enriched with milk and has a delicious natural flavour. It tastes great by itself and will compliment foods on your existing menu. This versatile product can be flavoured, garnished or used to create new dishes and is a great solution in your food service applications.
Whether you are looking to serve one customer or twenty, a gourmet style kumara mash can be made in seconds, year round. Instant Kumara Mash comes as a dry powder in a re-sealable pack. It can be conveniently stored at room temperature eliminating the hassle associated with fresh kumara preparation. At a minimal cost of less than a dollar per serve, it also solves the problems of kumara availability and price fluctuation in the market.
For free samples, or further information on this and other kumara products, please contact Nutritious Foods: enquiry@nutritiousfoods.co.nz or telephone: 09-304 0253; 09-3040254
.