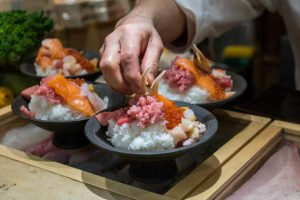 It is the moment many chefs live up to with a healthy dose of combined anxiety and excitement: the announcement of the Michelin Guide. But perhaps the moment is awaited with less tension in Tokyo, considering its enormous success in the past decade: from 2008 to 2016 Tokyo topped the list of cities in terms of Michelin star restaurants. And 2017 is no exception. Thirteen Tokyo-based restaurants received 3 Michelin stars, once again leaving the culinary capital of the world, Paris disillusioned on spot number two, with 'only' nine restaurants receiving the highest rating. A further 51 restaurants in Tokyo received the second highest admiration (2 stars) and in total, there are 151 restaurants with one Michelin star. Among those restaurants awarded with a Michelin star quite a few are of non-Japanese origin.
Never the same meal twice at Quintessence
In a sleepy part of Tokyo, a district called Kita-Shinagawa, restaurant Quintessence lies tucked in between two dull looking office buildings, quite far away from the buzzing city centre. Although this doesn't seem like a good start, once inside it is a different story – unsurprising for a restaurant which received three Michelin stars in the 2017 edition. Since the guide was introduced in Tokyo the Japanese owners of the restaurant have never received fewer than 3 Michelin stars. On a Wednesday afternoon Quintessence chef, Shuzo Kishida shakes his head upon hearing the question whether the three-star status starts to bore him. "I learned the craft in France, thanks to that time I can cook in Tokyo. It is an honour to be recognized in the Michelin Guide, especially since it is French, it fills me with pride," he says.
"Europe is always admired by Japanese, we find it fascinating. People are prepared to pay quite a bit of money for a European dish. We are generally interested in new and unknown food. It is a chance for them to get to know more about a new country."
This curiosity is as much a chance as it is a challenge. It is a chance for newcomers because people are prepared to try out new stuff. On the other hand: curiosity can change into boredom fairly quickly, which is the challenge. "When there is something new on the market, they might 'leave you', you have to be really good to keep them with you", says Kishida. In order to achieve this Quintessence came up with the plan to ensure guests would never have to eat the same dish twice in a row since guests are served a different dish each time they visit. There is a database in which all that a guest has ever eaten is stored. Based on the available ingredients on a specific day, the restaurant creates a personalized menu for the guest. "If a guest eats with us for one hundred times, we will change the menu just as many times", he says without hesitation. The competitive market forces the restaurant owners and chefs to continuously strive towards reinventing themselves and play with the curiosity of Japanese guests.