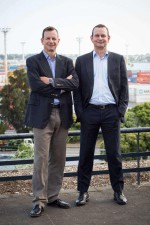 When James Crisp moved to Auckland from Dunedin in 1916 to become a wholesale merchant broker, little did he know that 100 years on his company would still be operating as a successful agent, importer and manager of iconic food brands today.
Crisp survived the economic slump of the 1930's, the imposed import controls and World War II when trade became dormant. Import licensing continued until 1949 when the new National Government of the time abolished the import controls allowing James Crisp to grow.
In 1957, John Hall, an Auckland food broker, and a nephew of James Crisp, joined the company as an equal partner. Free trade was once again disrupted in 1958 when import licensing was re-imposed. John became the President of the NZ Bureau of Importers, a trade group in pursuit of the abolition of the import controls and this was finally achieved in the late 1970s. James Crisp passed away in 1968, and later that year James Crisp the business became a limited liability company with John Hall as the major shareholder. The company grew at a steady rate.
Now 92, John is well and truly retired after passing the reigns to his sons Richard and Henry who have been Directors of James Crisp since the early 1990's.
Today, James Crisp Limited is a leading supplier of ingredients to the NZ food industry and manager of iconic brands with over 100 talented staff taking ownership of the brands they look after. Many staff members are long-term – some have been with the company for over 30 years. This says a lot for the Hall's management style and has no doubt contributed to the longevity of the company.
Currently James Crisp specialise in the supply of quality dried fruits, nuts, grains and almond flour to food manufacturers, bakers and food service industry. "We feel very privileged to be turning 100, not many companies are as fortunate. Our customers, suppliers and consumers are very important to us and we have made a commitment to them to continue to deliver great results. Roll on the next 100 years!" says Richard Hall.
The future continues to look bright for James Crisp as it moves after 50 years into its own purpose-built offices in Parnell, Auckland.