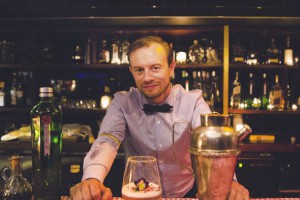 Jason Clark, representing Auckland's Bedford Soda & Liquor bar will be jetting off to Great Britain to compete for the title of WORLD CLASS Bartender of the year after a repeat win in the Diageo Reserve World Class National Final on Monday night at premium Auckland venue, Roxy.
After winning the title for the first time last year, Clark went on to place fourth in the world at the 2013 Diageo Reserve World Class Global final in the Mediterranean. After a day competing in three set challenges, Clark once again took the top prize in the face of tough competition against four other finalists from Auckland, Wanaka and Wellington.
Those finalists were Auckland's Cam Timmins of Ostro and James Millar of Fukoku; Shannon Sanderson of Lalaland in Wanaka and apprentice Ray Letoa of Roxy Cinema Miramar, Wellington.
All five finalists completed a series of challenges beginning in February, when monthly -tasks found their bartending skills and business acumen tested against 40 of the country's best bartenders, culminating in last week's national final for the top-ranking entrants.
Jason impressed judges with skills and charisma demonstrated throughout the day, finishing with the creation of his Italian-inspired Tanqueray No. 10 based cocktail – 'Parlo Italiano'.
Speaking passionately of a six month stint in Italy, Jason drew inspiration for the drink from the country's gregarious people, unique landscapes and beautiful colour palette. Presented on a slab of European marble and embellished with a vibrant viola flower, the cocktail took the drinker on a journey from spice to sweet then salty.
"I'm thrilled to win the national title again!" says Clark. "I really love what I do every day and it's moments like these that make the 100 hour-long weeks' worth it. Thank you to my amazing competitors – you drive me to be better. I'm honored to be up against such fantastic competition. Now I can't wait to get over to Great Britain for the Global final where I have some unfinished business to attend to."
Clark will head to Great Britain to represent New Zealand at the 2014 Diageo Reserve World Class Global Final in late July. Over the course of five days he'll compete against the world's best mixologists in a bid to win the title of 'World's Best Bartender' – a highly-coveted international accolade in a competition that this year saw an estimated 18,000 mixologists enter.
Frankie Walker, Diageo Reserve World Class spokesperson for New Zealand, says Clark showed real aptitude and flair at the national final which resulted in him being crowned the winner.
"We would like to congratulate Jason for his outstanding performance and thank all of the other bartenders for taking the time to enter and persevering throughout the course of this intense competition.  After witnessing the dedication these guys have to their craft, it's heartbreaking to only be able to name one winner. The talent in this country is exceptional and Jason should be very proud of his effort in getting to the Global Final for the second time," he says.
The Diageo Reserve World Class National Final consisted of three parts – beginning with an afternoon speed session at Ponsonby bar Revelry, judged by award-winning bartender Poni Sula, Diageo Reserve World Class spokesperson Frankie Walker and Diageo Reserve World Class Ambassador Tim Etherington-Judge. This was followed by a signature serve judging session carried out once again by Walker and Etherington-Judge, along with Restaurateur of the Year Michael Dearth. To finish off, over 100 guests were invited to participate in a People's Choice Judging Round, which involved a sampling of the finalists' creations via a series of rotations. Each judging round accounted for 33% of the total scores.