Our product
Kaitahi™ Frozen Superfood Smoothy Drops are our first range of easy to use, nutritious and delicious superfood products.  Our drops include traditional Māori ingredients such as kūmara, pūhā and kawakawa, made by Ringawera (cooks) who are familiar with the old ways of doing things.  With carefully curated ingredients, some harvested by hand and others sourced from suppliers we trust, this product is made with craft and care in the traditional way. Proudly the winner of the Most Innovative Foodservice Product award at Fine Food New Zealand Innovation Awards 2018 we've teamed up with The Produce Company to distribute to the kitchens, eateries and café of Auckland and Hamilton.
Delivered in the form of frozen droplets, Kaitahi is made for foodservice customers who want to provide a functional juice or smoothy option but are pressed for time to source and work with more than 3-4 ingredients.  Kaitahi saves on smoothy preparation and associated labour costs without having to compromise on taste or function.  The frozen droplets blend instantly and completely with a range of liquid mixers to deliver a functional juice, or smoothy.
Foodservice customers are blending our drops with almond milk, coconut milk and rice milk to make up a smoothy, others are blending with water or coconut water to make a functional juice.  Our drops can also be used as a base ingredient with fresh fruits or vegetables, in a smoothy bowl and even in a cheesecake or raw slice.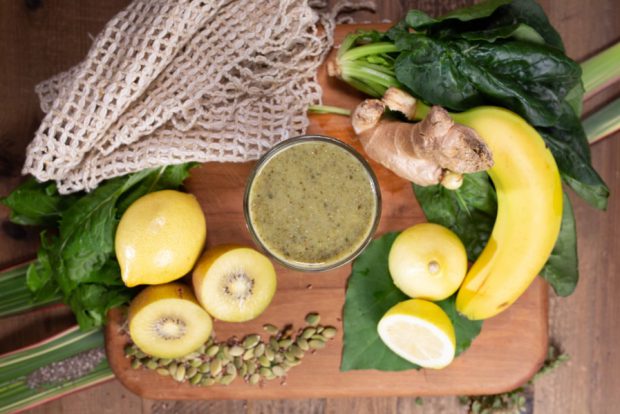 Three delicious flavours:
TRIPLE BERRY PROTECT
Blend of berries (boysenberries, raspberries, blueberries), orange and banana.
With extra boost from kumara, kawakawa and Rewarewa honey.
KIWI C BOOST
Blend of kiwifruit, orange, pineapple, banana, ginger, lime and coconut cream
With extra boost from + LPC + Kumara, + Rewarewa honey, + Kawakawa.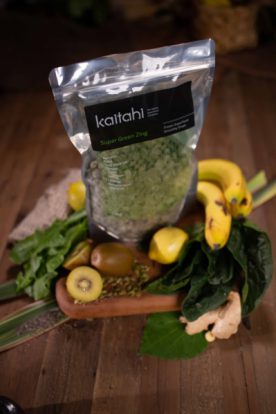 SUPER GREEN ZING
Blend of, kiwifruit, banana, spinach , lemon and ginger
With extra boost from + LPC + Puha, + kawakawa.
We formulated our frozen drop recipes to keep the natural sugar amounts at less than 10g per 100g, consumer feedback tells us the taste is refreshingly different and leaves a feeling of health and wellbeing, added to that consumers appreciated that our product isn't sickly sweet like current offerings.
Our Story
Kaitahi™ is a Ngaa Rauru Kiitahi venture that enables us to innovate with our traditions of caring, respecting and conserving.  To thrive as one: that's what Kaitahi™ is all about.  We believe that our natural food has mana (integrity, prestige, power) and needs to be shared with the world.  We know, as many ancient cultures do, that nature's pantry is a vital source of wellbeing.  That's why everything we make is naturally packed with the goodness our bodies seek.
Thirsty for more?
If you'd like to add something refreshingly different for your drinks menu this summer please contact us kiaora@kaitahi.co.nz or call +6421555767 to speak with our Business Development Manager, Leonie Matoe.