Looking for delicious new additions to your dessert menus this summer?  Killinchy Gold has released three new summer ice creams to tempt your customers with!
BLUEBERRY & LEMON
PASSIONFRUIT & LYCHEE
ENGLISH TOFFEE
Catering primarily for the restaurant and café market, the new flavours can also be located in boutique ice cream parlours.  Both the Blueberry & Lemon, and Passionfruit & Lychee ice cream flavours are believed to be unique in New Zealand.
How long does it take to develop new products?
Blueberry & Lemon has been in development for approximately six months and its release coincides with blueberry season.
How did the idea for Passionfruit & Lychee ice cream flavour develop?
It was derived from the ongoing popularity of South East Asian flavours in New Zealand cuisine.
How does the English Toffee flavour stand out?
English Toffee is a variation on the continued popularity of Caramel and Salted Caramel flavours, however, it has a more indulgent creaminess!
Try this delicious summer recipe: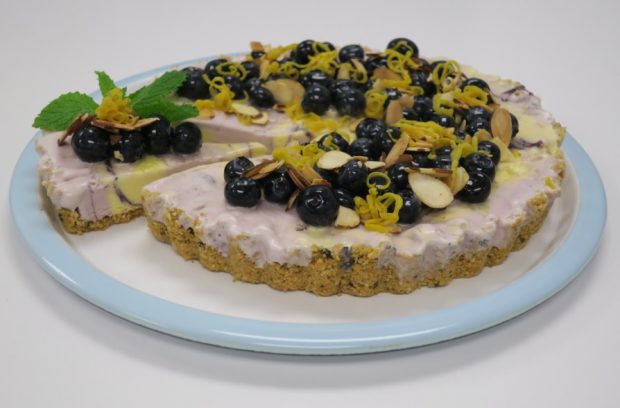 Killinchy Gold Blueberry & Lemon Tart
Ingredients
Crust
170gm crushed waffle cones (approximately 12 waffle cones)
60gm melted butter
1 tbs chopped fresh mint
Filling
500ml Killinchy Gold Blueberry & Lemon Ice Cream – lightly softened
125gm Blueberries (1 punnet)
Topping
125gm Blueberries (1 punnet)
¼ cup toasted almond slices
1 lemon
Icing Sugar to dust
Method
In a food processor blitz the waffle cones to a roughly chopped crumb. Add the melted butter & mix until combined. Lastly add the chopped mint and pulse to mix through.
Press crumb mix into a 23cm tart case and refrigerate for 15 minutes.
Scatter one punnet of blueberries onto the crumb base and then cover with the softened Killinchy Gold Lemon & Blueberry Ice Cream.
Smooth to an even surface and scatter the remaining punnet of blueberries over the top surface lightly pressing them in to the ice cream.
Scatter the toasted almonds over the blueberry topping.
Using a fine grater or microplane grate the zest of the lemon over the top of the blueberries.
If not using immediately cover or seal before placing in freezer (to stop icing over)
Prior to serving remove from freezer & place in fridge for 15 minutes to lightly soften.
Dust with icing sugar prior to serving.
For more information, visit http://www.killinchygold.co.nz or send an email to enquiries@icecream.co.nz