Winners of Time Out Melbourne's Food Awards 2015 have been announced with the coveted Restaurant of the Year award going to Flinders Lane Japanese fusion restaurant Kappo.
Melbourne's best cafés, restaurants and chefs received much-deserved recognition last week at the awards, held at George Calombaris's restaurant Gazi and emceed by comedian Andrew McClelland. More than 200 of the city's culinary experts, professional eaters and Time Out readers gathered to watch the winners announced across ten categories.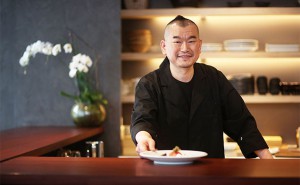 Japanese restaurants fared exceptionally well this year, with sushi masters Minamishima in Richmond picking up the award for Best Fine Dining Restaurant and super-popular ramen joint Hakata Gensuke winning Best Bang For Buck.
South Melbourne fine diner Lûmé was named Best New Restaurant. Best Casual Dining Restaurant was awarded to Italian kitchen Tipo 00. The bakery café at Shannon Bennett's food destination Burnham Beeches, Piggery Café, was named Best Café.
The city's rising stars were recognised with the Hot Talent Award going to three brothers: Blayne, Chayse and Tyson Bertoncello, saluting their achievement at their Beaconsfield restaurant O.My.
Chef of the Year was Scott Pickett, whose talents have shone through at three venues this year (Estelle, ESP and St Crispin). Hana Assafiri, whose Moroccan Soup Bar has chalked up 17 years as a North Fitzroy institution, received this year's Legend Award for outstanding contribution to Melbourne's food scene.
The People's Choice Award, as voted by Time Out readers, went to Market Lane's HuTong Dumpling Bar, confirming the city's obsession with xiao long bao (soup dumplings).
 "We are thrilled to award the team behind Kappo the award for Restaurant of the Year," said Time Out Australia CEO Michael Rodrigues. "They have worked tirelessly and created something truly essential to Melbourne's dining scene: outstanding food in elegant surrounds at a reachable price point. They are the complete package."
The winners were: 
HOT TALENT
Blayne, Chayse and Tyson Bertoncello, O. My
(Highly commended: Thi Le, Anchovy)
BEST NEW RESTAURANT
Lûmé
(Highly commended: Anchovy)
BEST CASUAL DINER
Tipo 00
(Highly commended: Magic Mountain Saloon)
BEST BANG FOR BUCK
Hakata Gensuke (Melbourne)
(Highly commended: Tina's Noodle Kitchen)
BEST FINE DINING RESTAURANT
Minamishima 
BEST CAFÉ
Piggery Café
(Highly commended: Kettle Black, South Melbourne) 
PEOPLE'S CHOICE
Hutong Dumpling Bar 
CHEF OF THE YEAR
Scott Pickett, Estelle, ESP, St Crispin
(Highly commended: Koichi Minamishima, Minamishima)
RESTAURANT OF THE YEAR
Kappo 
LEGEND AWARD
Hana Assafiri, Moroccan Soup Bar
(Highly commended: Maha)