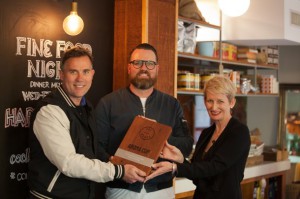 The caffeinated rush of Sydney's recent The Rocks Aroma Festival has passed, but patrons continue to savour their favourite coffee from the day. Sydney Harbour Foreshore Authority (SHFA) has announced this year's Aroma Cup winners, with the Industry Choice award going to Fine Food Store and People's Choice going to Playfair Café for the third year running.
SHFA's Chief Executive Officer, Catherine Gallagher said, "People love their coffee here in The Rocks – congratulations to Fine Food Store and Playfair for winning the hearts of baristas and Sydneysiders alike." 
"Now in its third year, the Aroma Cup honours The Rocks' incredible cafe culture. It's wonderful that we can celebrate businesses in the precinct and their superb offerings for coffee lovers," said Ms Gallagher.
Playfair owner, George Macris—who has been at The Rocks for 16 years—said, "We would like to thank SHFA for producing the Aroma Festival each year. It's a fantastic event and we are humbled by our customers' ongoing support and loyalty throughout the years." 
By simply casting a vote in the People's Choice competition, one lucky member of the public – Therese Leuvert from Elizabeth Bay – took home $3,000 worth of prizes, including a Breville Oracle espresso machine. 
Twenty of Sydney's ASCA-accredited baristas voted on the Industry's Choice award, determining who out of 12 contenders consistently served up the best coffee in the precinct. The anonymous industry specialists scrutinised each cup, paying attention to aesthetics including colour, stretch, pattern and contrast. Flavour was also integral to picking the winner, with the brews boasting a myriad of floral notes, fruity nuances and chocolate undertones.
Industry Choice winner Richard Randall of Fine Food Store said, "We love working within this historic precinct, so the opportunity to showcase our offering at what's become a much loved Sydney event is a great honour. To take out the Industry Choice award is truly humbling. We thank our neighbours and local villagers for their patronage as we mark our 11th year on Kendall Lane. We also thank the SHFA team for their support and making each Aroma Festival more engaging and exciting year on year." 
The Aroma Cup ran throughout July as part of The Rocks Aroma Festival, designed to boost visitation during the winter months. Attracting over 100,000 people, the festival filled The Rocks' laneways and street corners with hearty blends and celebrated Sydney's unique love for coffee. SHFA's precincts The Rocks and Darling Harbour attract more than 100 million visitors to the precincts each year contribution $1.2 billion annually to the NSW visitor economy.