Another exclusive food blog with Hospitality Business: Follow Lesley Christensen-Yule on her travels through Europe and America. A celebrated food writer (The New Zealand Chef and The NZ Cook's Bible), share Lesley's amazing food experiences and insights here.
Snapshot Europe: Marina del Cantone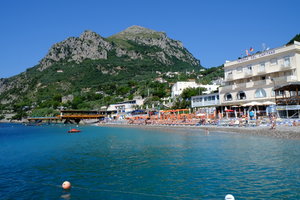 Our stay at the seaside village of Marina del Cantone was relaxing because it was right on the beach and the sea was cool and turquoise. Our hotel stay here included 'half-board', a term I had been unfamiliar with until reaching Europe. As well as breakfast we would also get dinner, but not lunch because that would be 'full-board'.
There aren't many English speakers in this out of the way place and I certainly wasn't expecting 'perfect' English at the hotel. I should say that my Italian is rather hopeless so if I were ever to attempt a translation of a menu into Italian I would expect some mirthful responses from Italian readers. So bearing that in mind, I was delighted with the quirky nature of the hotel guest notes and menu. It was possible to book into the spa and receive "an emotional shower". Would someone be singing a heart-rending operatic number while the water fell or what?.  In the event of fire "if the doors and walls in your room are hot, take a recipient and soak them with water".
The menu offered more delights. The area was notable for its shrimps being "one of the richest centres of aggregation of this delicious pink crustacean". Also "cakes of various species are baked by the pastry chefs at dawn". That evening Phil ordered the "swivel fish' to see what it was and it turned out to be a fish filled rolIed as a paupiette. I decided to order the "chicken with undergrowth" because we couldn't agree on what the undergrowth might be. I thought that root vegetables might be likely because of their growth underground but it turned out to be mushrooms. I'm thinking now that this will be my new word for mushrooms.
Despite the strange wording, the food was sensational, featuring freshly made pasta and seafood straight from the bay. Some of the tasty items we enjoyed were an amuse-bouche of profiterole filled with cheese mousse, fish 'swivelled' and served with clams, seafood soup, seafood risotto and seafood fritto misto. Who needs an emotional shower after such feasting!
Lesley Christensen-Yule
The New Zealand Chef
The NZ Cook's Bible