The votes are in and the Auckland hospitality industry is bucking the trend in selecting the winners of the 2014 Lewisham Awards.
On the back of a report from the Restaurant Association of New Zealand into dining trends, it seems those at the coalface are not necessarily seeing what's trendy as equalling what's best.
With shared plates and casual dining without reservations being called out as this year's big trend, it is interesting to see a number of old school favourites coming to the top of the industry's premier awards.
The Lewisham Awards provide an opportunity for the industry to celebrate its own success and select who its members believe have been the most impressive during the past 12 months.
The likes of Prego, The French Café, Soul Bar and Bistro, O'Connell St Bistro and Sidart have made the carte in this year's Lewisham Awards.
The winners were announced during an evening of entertainment at Auckland's Shed 10 waterfront venue June 1.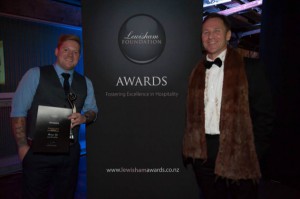 The full list of winners is:

Angostura Outstanding Bartender Barney Toy
Beam Suntory Outstanding Bar Golden Dawn
Caffe L'affare Outstanding Coffee Establishment/Barista  Duke Tran, Rad Café
Crombie Lockwood Outstanding Waiter Nick Harding, Baduzzi
EuroVintage Outstanding Wine List  O'Connell St Bistro
General Digital Outstanding Maitre d' Brandon Lela'ulu, Prego
Gilmours OutstandingChef Sid Sahrawat, Sidart
Menumate Outstanding New Establishment The Blue Breeze Inn
Moana Pacific Seafood Emerging Talent Elizabeth Birch, Eight.Two
Moet Hennessy Outstanding Hospitality Personality Judith Tabron, Soul Bar & Bistro
Negociants Outstanding Wine Service Professional Piers Haszard, Botswana Butchery
One Music Outstanding Existing Establishment The French Café
Pernod Ricard Outstanding Restaurateur Mark Wallbank, The Blue Breeze Inn
Restaurant Association of New Zealand Outstanding Sales Representative Ben Longhurst, EuroVintage
Rubbish Direct Outstanding Caterer Mint Kitchen
Telecom NZ Outstanding Supplier Neat Meat
Waterfront Auckland Outstanding Local Elbow Room