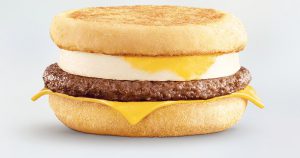 McDonald's New Zealand's commitment to cage free eggs has been recognised by Compassion in World Farming, at the Good Farm Animal Welfare Awards ceremony in Berlin.
The prestigious Good Egg award acknowledges that McDonald's New Zealand is leading the way and part of an international community of food businesses that care for the welfare of laying hens.
To date, more than 53 million laying hens are set to benefit from Good Egg award winners' policies and Macca's are proud to be a small part of that global change.
Dr Tracey Jones, Director of Food Business, Compassion in World Farming, says: "It's great to see the cage-free egg movement gathering pace around the globe and we are delighted to award McDonald's in New Zealand for addressing the welfare of laying hens.
When big brands like McDonald's make animal welfare commitments we often see the market following suit and by doing so they are showing their leadership and delivering what their customers expect," she says.
McDonald's spokesperson, Simon Kenny, says: "McDonald's is honoured to be recognised for making a commitment to cage free eggs and we're thrilled to announce that we're ahead of schedule, expecting 100% of our restaurants to source only free range eggs before the end of 2016."
Last year alone, McDonald's New Zealand purchased nearly 13 million eggs and due to the success of All Day Breakfast, that number will be even higher in 2016.
Otaika Valley Farms in Whangarei and Zeagold Foods in Otago have invested significant time and money to meet McDonald's NZ demand for free range eggs with Zeagold developing a new free range farm near Dunedin.
"Kiwis should feel proud for the part they have played in creating positive change in the New Zealand food industry and the welfare of laying hens," adds Simon.