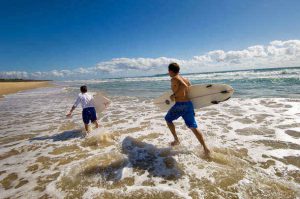 Events venue Novotel Twin Waters Resort has added to its enviable list of spaces, incentives and teambuilding activities this winter to introduce a new jetpack experience to rocket the Sunshine Coast experience to exciting new heights for delegates and guests alike.
Jetpack adventures are the world's newest adrenalin adventure activity, shooting adventurers some 10 metres above the water surface at speeds of up to 50kms per hour, and are now available for hire on an individual basis, as an incentive or exciting teambuilding activity over Novotel's famous lagoon.
Offered in partnership with Segway ECO Xperiences Queensland, who have built and run innovative teambuilding activities for the destination for more than 10 years, the Jetpacks are the latest in a wave of diverse new offerings that have been launched at Novotel Twin Waters Resort in the past 12 months.
With its sights set firmly on sporting events and lifestyle festivals, Novotel opened The Field, in February this year – a multipurpose, adaptable outdoor venue to provide additional team building options, and also cater for large outdoor events. With approximately 10,000 square metres of open space the field helps meeting planners maximise on the great climate, and has a keen focus on sporting events and lifestyle festivals which complement the traditional business events sector.  Rachel Smith, Director of Sales and Marketing said, "The field space is perfect for industries such as automotive, agricultural or horticultural displays or new product launches, it also complements the large aquatic space that the Resort currently has, including the Ocean, Maroochy River and Lagoon."
Most recently The Field at Novotel Twin Waters Resort played host to a number of Sporting Teams from pre-season training camps including Collingwood FC, Hawthorn FC, St Kilda and Brisbane Lions, and is currently available for Events, Trade exhibitions, product launches, sporting teams, festivals and more.
Last year, Novotel Twin Waters Resort announced a partnership with bespoke marquee supplier, Tipi Luxe, on the Sunshine Coast. Today, the resort owns three of its own tipis, ideal for corporate functions, conferences and weddings. Novotel's Tipi range represents a fresh venue option for new and return guests seeking an innovative space at the Novotel, one of Australia's most popular events destinations. Combining traditional Scandinavian design and modern technology, each tipi is intrinsically strong, versatile and beautiful, designed to withstand the elements and deliver a stylish outdoor venue option.
Each Tipi comfortably accommodates up to 72 people seated at tables or 100 people standing, with the option to also link multiple tipis to create a large, stunning, bespoke event space. The resort offers several different locations to host themed events and weddings with Tipi Luxe, including its bushland clearing, events lawn, and several serene waterside locations beside its famous lagoon.
As one of the most adaptable conference venues in Queensland, Novotel Twin Waters Resort provides the modern day traveller with everything they need for a healthy body and mind. It's desirable Sunshine Coast location surrounded by beach, river and bushland sets it apart from other destinations in Australia and with 10 purpose built function venues and conference and accommodation facilities for up to 1,400 guests it is one of the most versatile venues to work with.