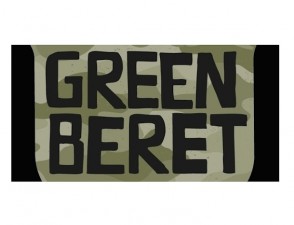 Mac's has launched an India Pale Ale (IPA) for summer under the name Green Beret. Weighing in at 5.4% alcohol and using Simcoe, Amarillo and Nelson Sauvin hops, Mac's say their new brew "provides a combination of tropical hoppy flavours and up front bitterness."
"Further dry hopping techniques with Amarillo and Nelson Sauvin are also used to boost the floral hop aroma whilst providing a more distinct green/resin based flavour profile. Dry hopping occurs at two stages of the brewing process – in the whirlpool and in the maturation tank. All the while, the hop character is balanced with a generous blend of Pale and Crystal malts providing body and richness," said Mac's.
Writer Matthew Martin said "it's a nicely balanced brew and due to no less than two dry hopping procedures has a pleasant, but not overpowering, hoppy fruitiness and a solid malty finish. At 5.4 percent it's an easy drinking beer that you could sit on all night. It's got a lot more flavour than Mac's Hop Rocker and is a great gateway beer for those not used to so much flavour in their beer. A highly drinkable and pleasant drop – give it a try."
To put this beer in context, it has 46 International Bitterness Units (IBUs). Mac's Gold has 15.5 IBUs, Mac's Hop Rocker has 31 and Budweiser has around 7. Green Beret has not been bottled – it is available on tap and in growlers (plastic riggers) nationwide.
Source: Mac's, Rotorua Daily Post