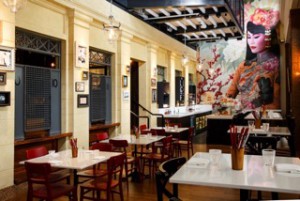 Much celebrated New Zealand chef Nic Watt has turned his attention to Vietnamese cuisine in a new restaurant which opened last week (Jan. 23) at SKYCITY's Adelaide Casino.
Madame Hanoi Bar & Bistro in the Adelaide Casino is the Kiwi restaurateur's latest venture in to Asian food. The restaurant is open from breakfast and the menu marries the sophistication of French food with the punchy flavour and vibrancy of Vietnamese cuisine.
Nic's acknowledged passion for Asian cuisine is showcased in a menu featuring a contemporary take on the French influence on Vietnamese food in Indochina during the 19th Century.
As with his highly successful MASU by Nic Watt, sharing plates encourage Madame Hanoi diners to try a varied range of beautifully presented and skilfully executed dishes.
Diners can delight in dishes such as Spencer Gulf tiger prawns, banana blossom, pineapple and kaffir lime salad, crab wrapped in betel leaf, pomelo and chilli and Madame Hanoi Croque Monsieur.
The restaurant also features a South Australian-focused list of more than 100 different wines as well as 14 draft craft beers. A focus on single origin coffee, including bespoke cold drip Vietnamese coffee at the restaurant's espresso-bar entrance complements the breakfast menu which includes macarons and French pastries.
With his background firmly rooted in the highly technical skills of Japanese cooking, Nic Watt has always been a passionate lover of Asian cuisine. On visiting Vietnam on honeymoon with his wife Kelly, Nic was instantly drawn to Vietnamese food with its heavy influence of French colonialism.
"From baguettes to coffee, the French influence has been far-reaching on what was already a gastronomically renowned nation," Nic says.
Vietnam was a French colony for nearly a century from 1859. The indelible mark of the French influence remains on everything from elaborate architecture to street names and most notably, the cuisine. "The European influence gave rise to an entirely new taste to traditional Vietnamese food, while also showcasing the way the Vietnamese have put their own stamp on food introduced by the French.
"This is what we are trying to achieve at Madame Hanoi where we have dishes that are both uniquely Vietnamese and unmistakably French sitting alongside those that harmoniously unite the two," Nic says.
The former railway site now occupied by Madame Hanoi is set over two floors and features domed, ornate ceilings and arched windows reminiscent of 19th century colonial days. Original train ticket booths remind diners of the building's history as a transport hub.
Madame Hanoi Bar & Bistro is open from 7am Monday to Friday and from 11am in the weekends at Adelaide Casino, North Terrace, Adelaide.