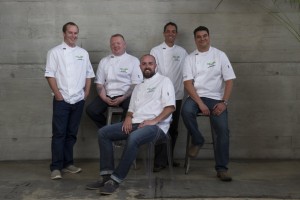 The top restaurants and chefs in the nation were revealed at a long lunch held at the prestigious Kelliher Estate on Puketutu Island, after months of assessment by culinary trained experts.
163 restaurants from across New Zealand received the 2015 Beef and Lamb Excellence Award, recognising the highest quality, most skilfully composed and superbly presented beef and lamb cuisine.
2015 marks the 19th year of the Awards, making them the country's longest running culinary award programme and one which is highly regarded within the industry.
Beef + Lamb New Zealand, CEO, Rod Slater says the Awards have helped to take the guesswork out of choosing where to dine. "Wherever you see the gold plate displayed you can be certain a stellar beef or lamb meal will be presented. We're absolutely confident in providing this guarantee, given the level of groundwork supporting the Excellence Awards," says Slater.
The degustation lunch, attended by over 35 food writers and media, was designed and constructed by the five newly announced 2015 Beef + Lamb Ambassador Chefs.
The 2015 Beef + Lamb Ambassador Chefs were selected from the restaurants that performed highly in the Excellence Awards assessment process. They are:
Reon Hobson from Pescatore at The George Hotel, Christchurch
Brad King from Bistro at The Falls Retreat, Bay of Plenty
Ken O'Connell from Bracken Restaurant, Dunedin
Marc Soper from Wharekauhau Estate, Wairarapa
Ryan Tattersall from Cobar Restaurant, Wellington
The Ambassador Chefs will partake in a planned programme of activities with Beef + Lamb New Zealand throughout the year, including 'The Ambassadors Series', where each chef will hold a ticketed event in their own restaurants inviting diners to experience their skills with beef and lamb firsthand.
Beef + Lamb New Zealand's six Platinum Ambassador Chefs were also in attendance at the lunch, making for an exceptionally strong line-up of talent. These chefs, who have achieved the lifetime Platinum status, after being named as an Ambassador Chef four times, are:
Stephen Barry from Mount Bistro, Mt Manganui
Michael Coughlin from Pier 24, Dunedin
Brenton Low from à Deco, Whangarei
Mat McLean from Palate Restaurant, Hamilton
Rex Morgan from Boulcott Street Bistro, Wellington
Darren Wright from Chillingworth Road, Christchurch
For the full list of 2015 Excellence Award holders, visit nzexcellenceawards.co.nz