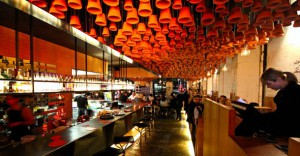 Time Out Melbourne's Food Awards, which celebrate the best restaurants, talent and value across the city, has announced the nominees for 2015, whilst the winners will be announced at the Awards ceremony on Monday 17 August at George Calombaris's restaurant Gazi.
The nominees will be vying for a win across ten categories, including the coveted Restaurant of the Year and Best New Restaurant Awards. Chef of the Year Award provides a much-appreciated thank you (and ego-massage) to an individual Head Chef.  
Acknowledging the diversity of restaurants, there's Best Fine Dining Restaurant, Best Casual Dining Restaurant, and Best Bang for Buck Awards. The Legend Award pays homage to an industry stalwart, while Best Café applauds those places we frequent in the daytime for caffeine and bites. The Hot Talent Award recognises the new generation of cheffing talent everyone should be watching, while the People's Choice Award hands voting to the public for their opinion on who was the best restaurant of 2015. 
Time Out Australia CEO Michael Rodrigues says, "The Time Out team dine out relentlessly so that they constantly know what's going on in Melbourne's incredible eating scene. Melbourne's cafes and restaurants are world leaders in quality and creativity. This is our way of recognising the people and venues that bring us hungry folk amazing dishes… and to nurture a bit of healthy competition along the way."
The Time Out Food Awards are an industry-recognized celebration of talent, voted on by independent editors and reviewers. The ceremony will be emceed by Andrew McClelland and tickets to the awards night are available to the public, who are encouraged to come along and rub shoulders with their favourite chefs and restaurateurs.  
WHAT: Time Out Food Awards Melbourne
WHEN: Monday 17th August, 2015, 6.30 – 10.30pm

WHERE: Gazi Restaurant, 2 Exhibition St, Melbourne VIC 3000