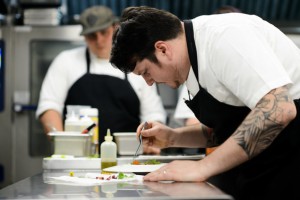 It's not often an executive chef from a Michelin starred restaurant comes to town. And when it's renowned ex-pat Kiwi chef Matt Lambert you can be assured that seats will be in hot demand.
Lambert owns New York's outstanding restaurant The Musket Room and he is 'going wild in Marlborough' in early May at a special charity lunch in aid of Kaipupu Point Sounds Wildlife Sanctuary.
He joins head chef Bradley Hornby from Gibbs on Godfrey at the fundraiser which is supported by Ōra King and the award winning Blenheim restaurant.
Ōra King general manager of marketing Jemma McCowan says the opportunity to get Lambert's take on Marlborough's finest is very rare.
"Matt loves working with NZ food and wine, but usually caters to New Yorkers, so we are thrilled to bring him to Blenheim to work his magic on our wonderful Marlborough produce. This special one-off event will definitely be a highlight of our culinary year," Ms McCowan says.
Bradley Hornby says his restaurant is really pleased to be collaborating with a premium Marlborough supplier such as Ōra King. "It's especially exciting to be hosting an internationally renowned chef such as Matt Lambert. Matt is 'Kiwi Proud' in everything he does and works hard to promote our country in New York. The event is about giving back to a region that gives us so much and Kaipupu Point Wildlife Sanctuary is a great cause to come together for," Hornby says.
Lambert says he is looking forward to the opportunity. "I can't wait to be back in Marlborough. Working with Bradley and his team using the region's best produce alongside Marlborough's wonderful wines is what I call exciting," Lambert says. "I have been out in the Marlborough Sounds visiting the salmon farms and fishing; I am pleased to assist in maintaining this environment through the work of the Kaipupu Point Sanctuary so future generations can enjoy one of the most beautiful places on earth."
Cooking fine produce is an experience Lambert is well practised in. He regularly features Ōra King and other New Zealand meat and fish products on the menu at The Musket Room, which was awarded one Michelin Star four months after opening in 2013 and retained its rating in 2014. And just last October Lambert picked up the Best International Ambassador Award for Ōra King for the second year running in the 2014 Ōra King Awards.
Kaipupu Point Sounds Wildlife Sanctuary is a community project to create a safe haven for wildlife on a peninsula of land near Picton at the top of the South Island. A predator-proof fence has been built across this connection to create a Mainland Island that prevents possums, stoats, rats and cats from entry; thus providing a safe haven for the restoration of native flora and fauna.
Why:   Charity lunch & silent auction in aid of Kaipupu Point Sounds Wildlife Sanctuary.
What:  Ice Bar followed by three course lunch featuring the finest Marlborough produce matched with the region's best wines.
Who:   Matt Lambert, executive chef and co-owner The Musket Room, New York and           Bradley Hornby, head chef, Gibbs on Godfrey
When: 1pm, 3 May, 2015
Where: Gibbs on Godfrey, 36 Godfrey Road, Woodbourne
Cost: $200 per person. Limited tickets available now from www.orakingsalmon.co.nz/mattgoeswild