In honour of National Bourbon Day on June 14 2014, North Wharf eatery Miss Clawdy is shaking up the typically male dominated world of bourbon and introducing the first ladies-only bourbon and whisky cocktail list.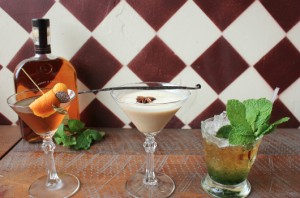 In true Southern style, Miss Clawdy invites women to toast a glass of liquid gold made from a selection of the world's finest bourbons and learn the art of drinkin' like a man.
An untold story, women have changed the face of the bourbon and whisky industry, turning distilleries into thriving businesses. It is a little known fact that women were the manufacturers of this golden liquor.
The 1800's saw many women owning a number of bourbon distilleries and went on to build iconic brands including Bushmills, Laphroaig, Woodford Reserve and Maker's Mark. In an era when women were working around the home, these whisky-loving women broke convention by dressing like a lady and drinking like a man.
Miss Clawdy's bourbon and whisky cocktail list will be a mixture of classic drinks and Miss Clawdy originals, made to inspire women to experiment with the world of whisky and bourbon and experience the next level of taste, age, texture and aroma.
Concoctions that diners can look forward to this winter include the classic Mint Julep – a masculine, yet marvelously delicious blend of Jack Daniels Gentleman Jack with a crisp infusion of mint.
The Southern Santeria is an original Miss Clawdy black magic potion made of a bourbon infusion with cherries, vanilla pods, anise and cloves.
The Miss Clawdy Vieux Carre is a complex, rich, spicy and slightly creamy cocktail. A classic from New Orleans named after the French meaning for 'old square'.
As part of Miss Clawdy's first ladies-only bourbon cocktail list, an Instagram competition will be launched to help women get into the spirit this winter. Diners will be invited to share their best 'dress like a lady, drink like a man' photo in restaurant with @missclawdynz and #bourbonbelle.
The best photo will see one lucky lady and three of her friends win the ultimate bourbon experience with top mixologist, Matt Bradley, who will personally cater and create cocktails at Miss Clawdy.