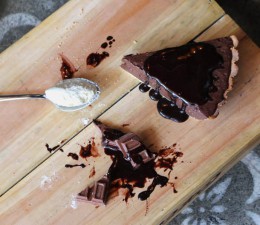 44,567 individual visits were made to Auckland City Mission's Homeless Community Drop In Centre between 2012 and 2013 and is the highest number on record. Alarmed by this overwhelming statistic, Miss Clawdy launches their Thanksgiving initiative for a second year from 24 – 28 November to help collect over 1000 canned goods, which will be donated to Auckland City Mission.
In a sweet collaboration with Whittaker's, Auckland foodies will be in for a serious dose of chocolate goodness with Miss Clawdy's Thanksgiving special, The Miss Clawdy Whittaker's chocolate pie. Diners are invited to enjoy a free slice of chocolate heaven in exchange for two canned goods.
"At Miss Clawdy we love celebrating the spirit of giving back and saying thanks. Partnering with Auckland City Mission for another year is just a small way for us to give back to the Auckland community," says Tom Wiley, co-owner of Miss Clawdy. "We want to collect over 1000 cans for the Auckland City Mission this year and have extended our celebrations in order to do just that," adds Tom.
The bustling Southern eatery launched their Thanksgiving initiative in 2013 and received a great response from public showing their support. This year, Miss Clawdy invites Aucklanders to continue embracing the spirit of giving back and donate to those who are in need the most this Thanksgiving. As part of the celebrations, Miss Clawdy will also announce a traditional southern inspired Thanksgiving menu and will offer lunchtime bookings from 11.30 – 4pm. From 4pm till late, Miss Clawdy's regular walk-in service will resume.
'Thanksgivin' celebrations at Miss Clawdy' will take place from Monday 24 November until Friday 28th November from 11.30am till late. Miss Clawdy's standard menu will also be on offer that week. For more information visit www.missclawdy.co.nz.