New Zealand's longest running food challenge is back for its 17th year as the Monteith's Wild Food Challenge (MWFC) brings wild dishes to the tables of restaurants and bars around the country for the month of July.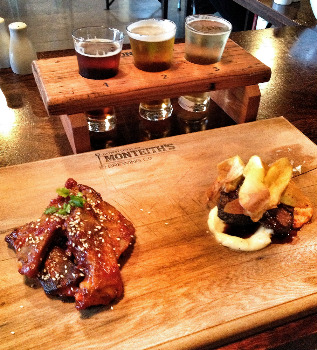 Serving a feast of flavours for all those who have a hunger to dine on the wild side, the nation's most adventurous chefs have created dishes that showcase the best of local, wild ingredients and perfectly paired them with a Monteith's beer or cider.
The Monteith's Wild Food Challenge presents a golden opportunity for diners to enjoy new foods foraged from far beyond the shelves of the local supermarket from the 1st of July.
"Diners are in for a phenomenal food experience this year with 123 wonderfully wild dishes and unique matches on offer," says Head Judge Kerry Tyack.
"The Monteith's Wild Food Challenge is a great chance to get amongst New Zealand's wild foods and expand your palate knowledge. Bringing complementary flavours of food and beer together in such a way that each brings out the best in the other is a measure of a chef's talent and I'm looking forward to tasting these exceptional dishes that harness the varied tastes within the Monteith's range," says Kerry.
The 123 outlets competing for the MWFC national title and the main prize of $15,000 cover the country from Kerikeri to Invercargill.
Diners have as much sway in determining the 12 finalists of the challenge as do the judges. The six outlets that receive the most votes from their diners proceed to the final stage along with six others picked by the expert panel.
If you are a fan of Bambi then you are in luck as venison is this year's most popular MWFC meat, with a beer to match the weather – Monteith's Doppelbock – the most popular pairing. Other tempting treats this year include:
I'll Pack a Dinner – The Dinsdale Office, Hamilton:
Pan-seared loin of alpaca atop urenika potato croquettes, paired with Monteith's Doppelbock
Deer, The Pig, Nuts on the Hare – Rutland Arms Inn, Wanganui
A game-meat loaf consisting of braised pork head, venison shank and black pudding accompanied by a hare ragout paired with Monteith's Crushed Pear Cider
The Fasting Buffalo – The Riverhead, Auckland:
Roast water buffalo with Karengo sea salt and a black garlic and beer lacquer paired with Monteith's Doppelbock
Diners are also in with a chance to win too; after dining at a MWFC outlet, cast your vote either in-house or online to be in to win a $5,000 wild experience with Monteith's.
So, now that you're salivating at the thought of a wild meal and a cold Monteith's, check out the list below to find a MWFC outlet near you. Or for more information on the challenge, participating outlets and their entries, head to www.monteiths.co.nz.
Get hungry. And go wild.