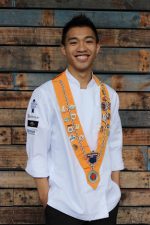 A young Kiwi chef is starting up a travelling restaurant to bring more of the world's culinary delights back to New Zealand kitchens.
William Mordido hopes his new global pop-up restaurant called Buko will also be the answer to nurturing our country's talented chefs and keeping them in New Zealand long term.
"It's a great opportunity for the next generation of our country's chefs to experience a different level of cuisine and get to eat, see and be inspired to bring back new ideas," he says.
Mordido, who is originally from the Philippines, is turning to crowdfunding to help him pay for the first Buko team's flights and accommodation for its launch at The Private Dining Room in South Yarra in Melbourne on October 25. In the future Mordido will pay the chefs on project-based contracts.
Mordido plans to showcase the group of chefs' food in existing restaurant establishments around the world. There are already plans for events in the Cook Islands and Chicago in the United States.
The menus will pay respects to traditional and modern cooking techniques and flavour combinations, with a special emphasis on Mordido's upbringing in New Zealand and the Philippines.
Mordido was named Restaurant Association NZ Chef of the Year and won a silver medal at the prestigious International Jeunes des Rotisseurs Competition in Manchester, England last year.
He was the first New Zealander to stand on the podium at the prestigious competition in more than 20 years.
The Onehunga High School graduate is currently one of among three New Zealanders competing in the Pacific region semi-finals of S.Pellegrino's prestigious Young Chef 2018 competition.
The pop-up concept is widely used overseas, but is still relatively new in New Zealand.
"It's a great idea because it feeds a diner's curiosity. When dining at a restaurant you know what to expect, but with a pop-up there's a huge surprise factor," Mordido says.
A family fish dish will be top of Buko's menu. It's one Mordido's mother used to cook when he was growing up, but it still doesn't have a proper name.
"I was really taken by the simplicity of the soup, so I decided to use that as the base for my dish. The jack mackerel filleted and cook in the same broth, and I finish it off with a tapioca crisp flavoured with the consommé, pickled shallot, coconut pumpkin puree."
The chefs travelling to Melbourne will be taken to dining experiences, visiting fruit and vegetable markets, fish mongers and butchers to source fresh produce directly from the vendors. A young high school student Pagia Wilson will be guided under Mordido at Buko.
'Buko' means young coconut in Tagalog, the national language of the Philippines. As a young child, Mordido was likened to the coconut for having three cowlicks in his hair, like the Buko's three dots.
Mordido completed a three year chef apprenticeship at Sky City in 2011 and went on to work as a sous chef at Chikos Restaurant and Café in Henderson, West Auckland.
The Mt Wellington, Auckland resident needs to raise $4500 in the next 22 days. If you are keen to support him go to pledgeme.co.nz and search "Mordido takes Buko to Melbourne!" to make a donation.
For every $25 donated to the cause $10 will be donated to the New Zealand Women's Refugee. Visit Willpowernz.com for more information about Buko.