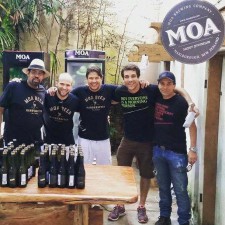 A collaborative report recently released by researchers Frost & Sullivan for New Zealand Trade & Enterprise (NZTE) shows global beer consumption is in a state of transition.
Consumption volumes are decreasing overall in North America, Europe, Australia and New Zealand yet increasing in the craft beer segment of these same markets. In countries such as Brazil and China with a rising middle class, craft beer is also catching on.  The report forecast that New Zealand craft beer exports could increase at up to 300 per cent in the next decade, making it a significant earner for this country.
Through a partnership with Brazilian native Marconi Albuquergue and his company Oceania Group, Moa is experiencing recent growth in one of the most exciting growth economies in the world – Brazil. Thanks in large part to two high end supermarket accounts, Moa sent four (20ft) containers to Brazil since end of May this year. One has landed, with three more on the water. This equates to some 200,000 bottles to Brazil since linking up with Albuquergue.
High end supermarkets Zona Sul and Super Prix chains (one covering the South and the other covering the North districts of the city – both seeking exotic craft beer inclusions) are driving sales and thirst, while hot bar spots Escondido Pub Copacabana and Delirium Cafe Ipanema in the famous neighbourhoods of Copacabana, Ipanema and Leblon boast the brew on tap.
Albuquergue notes Breakfast Beer has been the eye and palate catcher in many of the party areas of Rio – a refreshing brew in high temperatures that has a Marlborough cherry added in the fermentation process and an ABV of 5.5%.
"It was in New Zealand I discovered Moa. On return to Brazil, I was blown away with the move toward craft beer. Brazil has a fascination with New Zealand, with so few New Zealand brands in Brazil. I saw the opportunity — and specifically with Moa given craft is, like other countries, performing impressively here," he says. Brazil has a rapidly developing taste for craft beer – with Brazil driving a 63.9 per cent growth in volumes for the US alone. It is also the seventh largest economy by nominal GDP in the world as of 2015.
Moa will be the exclusive beer sponsor of the NZ Olympic team and will be served at 'New Zealand Club' in the Sheraton Hotel close to the beach in Rio.  "Kiwi house in London was a great success three years ago. So we are very much looking forward to being in Rio next year.  We are more advanced this time, with distribution, on and off premise accounts in place already. Plus of course a great experience for visitors to the pool bar at kiwi house close to the beach," says Geoff Ross, Moa Brewing Company's CEO.
Moa, the only beer company listed on the New Zealand stock exchange (NZX: MOA), is the largest New Zealand owned beer brand and is also believed to be the largest exporter.