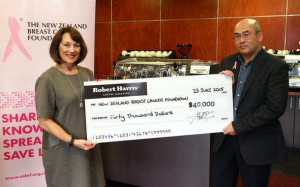 Breakfast was the most important meal of the day at Robert Harris Café in May, with the cafe network taking part for the second year running in the Pink Ribbon Breakfast Campaign.
During the month of May, patrons of over 40 Robert Harris Cafés across the country were able to participate in the campaign, knowing that 10% of their purchases would be donated to the charity.
Last week a cheque to the value of $40,000 was generously handed over to the New Zealand Breast Cancer Foundation (NZBCF), where the funds will go towards research on new targeted breast cancer treatments.
Each day eight women are diagnosed with breast cancer and almost every kiwi knows someone whose life has been affected by this disease, whether it be friends or family. As many as 650 New Zealanders die of breast cancer every year. 
"The Robert Harris Café network has backed our Pink Ribbon Breakfasts with a phenomenal amount of support. The owners in particular, really got behind the campaign and made it a success. We are very appreciative that Robert Harris again chose to support our Pink Ribbon Breakfast campaign and grateful for their contribution of $70,000 over the last two years," said Van Henderson, Chief Executive at the New Zealand Breast Cancer Foundation.  
Andre Gargiulo, Cerebos Greggs Ltd, Country Manager says; "Breast cancer touches so many kiwi families, including Robert Harris cafe owners, their communities and customers, and our staff, we didn't hesitate to support this campaign again. We hope to continue our involvement with this wonderful charity for many more years to come."