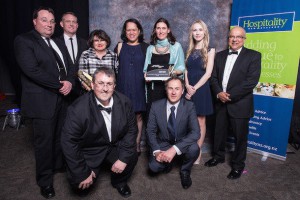 The best performing bars, restaurants, cafes and hotels in New Zealand's hospitality industry have been announced as winners at this year's Hospitality New Zealand Awards for Excellence.
The range of winners across some 15 categories encompass everything from country pubs in small rural towns and cafes in provincial centres, through to upmarket gastro bars and five star hotels in the major cities.
The Jet Park Hotel & Conference Centre in Auckland was announced as the Supreme Champion of the awards at the Hospitality New Zealand national conference held in Rotorua on September 18.
Hospitality New Zealand chief executive officer Bruce Robertson said the calibre and breadth of winners at this year's awards reflected the healthy state of the wider hospitality industry for those businesses which had invested in keeping ahead of their competition.
"Hospitality, like any economic sector, relies on a combination of innovation, professionalism, rigorous business practices, and a liberal dash of commitment and passion to generate ongoing success. The winners of this year's awards display these attributes and pre-requisites in abundance – placing them clearly at the forefront of their peers," Mr Robertson said.
"The New Zealand public, and indeed international visitors too, can take every confidence that their patronage at these winning establishments will be rewarded with outstanding and memorable experiences.
"These worthy winners are a credit not only to their industry, but also to New Zealand as a whole, and truly represent the best that this country has to offer."
Also recognised was Michael Friend as the first recipient in to the Hospitality New Zealand Hall of Fame. Michael has had a long career not only on the front line of hospitality but also contributing to the industry beyond his business.
Entrants into the Hospitality New Zealand Awards for Excellence are judged over a seven week period by a panel of independent industry professionals who assessed every competitor on a range of commercial and operational criteria – including staff training and human resources, customer service, marketing and promotional activities, and the demonstration of business growth.
The winners at this year's Hospitality New Zealand Awards for Excellence are:
Supreme Champion
· Jet Park Airport Hotel & Conference Centre, Auckland
Best New/Redeveloped Bar/Restaurant
· Mashina Lounge, Christchurch Casino
Best Country Hotel
· Theatre Royal Hotel, Kumara, West Coast
Excellence in Host Responsibility
· Christchurch Casino
Excellence in Training and Staff Development
· Jet Park Airport Hotel & Conference Centre, Auckland
Best Restaurant
· Smith & McKenzie Chophouse, Hamilton
Excellence in Gaming
· Yardhouse, Hamilton
Best Accommodation Hotel
· Rydges Hotel, Wellington
Best Environmental, Sustainable and Ethical Practice
· Jet Park Airport Hotel & Conference Centre, Auckland
Best New/Redeveloped Accommodation Hotel
· Art Deco Masonic Hotel, Napier
Excellence in Customer Service
· Larnach Castle, Dunedin
Best Café
· The Batch Café, Invercargill
Best Bar
· Chapel Bar and Bistro, Auckland
Excellence in Marketing
· Rydges Hotel, Wellington
Best TAB Venue
· Dark Horse, Auckland
Best Music Entertainment Venue
· Dux Live, Christchurch