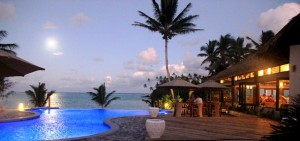 Nautilus Resort has added to its trophy cabinet by taking out the inaugural Supreme Award for Restaurant of the Year, topping a group of Cook Islands' eateries wowing the public with their culinary creations.
At the recent La Chaine des Rotisseurs and Cook Islands Chefs Association Restaurant of the Year Awards dinner, the top award and gold medal went to Nautilus Resort's Restaurant. The awards were chosen by hundreds of the most powerful and fussy critics – the diners themselves. 
Overlooking sparkling Muri Beach and lagoon and just 20 minutes by road from Rarotonga's international airport, Nautilus Resort offers a fresh new dining experience showcasing Polynesian signature tastes. The cuisine is Polynesian – European fusion, using local seasonal ingredients and produce, with of course an emphasis on organic fresh produce and harvest from the sea. 
Originally from Brazil, the new head chef at the Nautilus is Mike Fossbender. Having recently moved to the Cook Islands with his young family, Mike says, "I'm learning so much about a lot of different foods I had never heard of, like taro, rukau, pinapi, and poke. 
"One of the best things about traditional Cook Island foods for me is the simplicity of the flavours, and how they work for infusion and influence different cuisines." 
Mike is starting to put his own spin into the dishes being served, be they French, Italian or Japanese. "Though I didn't want to go too extreme with infusion, most of the influences on the menu are from Euro areas, and I do have some great ideas for our next menu change to bring in a few more influences from Asia. Mostly I am using techniques from other cuisines, while retaining flavours of the Cook Islands," Mike says. 
The Restaurant of the Year awarding winning entry was… 
Entree:
Braised lemongrass pork belly on sumac crumbed eggplant with organic herb salsa and carambola and star anise sauce.
Accompanied by a Jules Taylor Pinot Gris 
Main:
Steamed Parrotfish stuffed with roast pumpkin and wrapped in rukau leaf, served on Kumara fondant, snake beans and vanilla coconut curry sauce.
Accompanied by Giesen The Brothers Chardonnay
Dessert:
Coconut custard with pawpaw poke and deep fried banana and walnut semi-fredo.
Accompanied by Frangelico and fresh lime