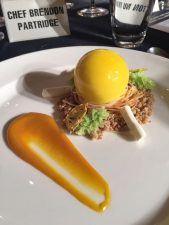 Enrolling to study culinary arts at NZMA has been life-changing for Tuaine Taringa.
The mother of three has just returned from Viet Nam – one of six top cookery students from around New Zealand selected to compete in the prestigious NZ Viet Nam Culinary Collaboration. The trip proved to be the experience of a lifetime for the 33 year old, who had previously only travelled to Australia and the Cook Islands. During the six-day visit, Tuaine soaked up Vietnamese culture, learnt about Vietnamese cuisine and cooked for 170 guests including the Rt Hon Steven Joyce. She also earned the highest score in the competition for her coconut dacquoise dessert, with judge Brendon Partridge, Executive Chef at JW Marriott in Hanoi, scoring it a massive 9.9. out of 10.
"It was amazing to get that feedback from the judges," said Tuaine. "It has given me such a confidence boost! My family is so proud of what I have achieved."
The competition took place in Ho Chi Minh City and was organised by Education New Zealand to showcase New Zealand's expertise in vocational training.  Three teams of four trainee-chefs were tasked with creating the ultimate three course meal for a prestigious gala dinner on June 6. Tuaine's team scored 77 out of 100 points, making them second in the competition and only two points behind the winning team for their spicy baked mussels entrée, lamb rack with coconut and cauliflower puree, ginger rice and peanut pesto and of course, the show-stopping coconut dacquoise dessert.
"This experience has been so amazing! It has opened my mind to different flavours and styles of cooking. My ambition now is to continue learning from other cultures and cuisines. I didn't know where I wanted to take my cooking before this competition, but now I know that I definitely want to be a pastry chef. I now have the confidence to take my cooking to the next level. I feel like I am just at the beginning of my journey and nothing can stop me!"
Prior to enrolling on NZMA's Diploma in Professional Cookery, Tuaine had been a stay-at-home mum for ten years. Cooking for her growing family inspired her to return to the classroom.
"I wanted to learn how to use different flavours and techniques, instead of cooking the same things day in day out for my family. It's been amazing. I've learnt so much, and my family is delighted!"