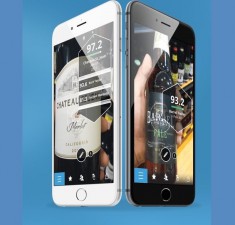 The new Smartphone App Next Glass requires users to upload five of their favourite beers or wines and uses that information to recommend drinks it thinks they will like.
The app claims to be able to "learn" a consumer's individual taste, which allows it to score bottles of wine or beer out of 100 within the app's extensive database. It works by breaking down a wine or beer into its chemical components. High scores are given to those with a similar "DNA" to the user's favourite wines and beers.
Users simply need to point their iPhone at the bottle of wine or beer and Next Glass will recognise it within seconds if the targeted wine/beer is on its database. The app will then give its user a personalised score out of 100, with its makers claiming that the app can predict with 96% accuracy how much the user will love a beer or wine.
"Taste is really a hard thing to define. We figured the way we could do that is through objectively defining each bottle of wine and beer through its chemistry," Kurt Taylor, founder of Next Glass, told NBC. "We wanted to figure out a universal language for wine and beer so people can discover bottles they actually like," he added.
The app, which also provides calorie and ABV information for every beer and wine on its database, is available for free with the Apple Store or Google Play. Next Glass currently has over 20,000 beers in its database.
Source: NBC, Drinks Business (http://www.thedrinksbusiness.com/2014/11/app-predicts-taste-in-wine-and-beer/)