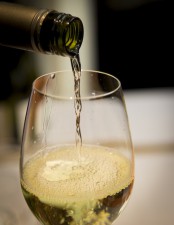 There is little doubt among the experts that New Zealand wines have grown tremendously in prestige during recent decades. But have the people serving them kept pace with the momentum?
That's the question behind the New Zealand Sommelier of the Year Awards under the direction of Master Sommelier Cameron Douglas.
The competition is the brainchild of New Zealand School of Food and Wine director Celia Hay and is part of Auckland's new Wine and Food celebration in mid-September. Entries close on (31 August, 2014) and further details are at http://www.foodandwine.co.nz/Sommelier_Comp
Hay says the aim is to create a challenging competition with great prizes to inspire existing and new talent in the industry. "Our wines are taking on and competing extremely well with wines produced in more established, international wine regions" she says. "Winegrowers are keen to ensure those who serve our wines also have the knowledge and expertise to provide the best customer experience."
There are three awards in the competition, NZ Sommelier of the Year, Junior Sommelier of the Year and Young New Zealand Wine professional of the Year.
Experienced sommeliers with New Zealand and international wine knowledge can enter the major award while the junior competition is open to sommeliers younger than 30 who are ambitious to excel but need more time and experience.
The young wine professional is chosen from people younger than 30 working with New Zealand wines in sales, marketing, retail and cellar door positions.
Cameron Douglas is joined by Therese Herzog and Tim Hanni MW in overseeing the competitions. Entrants undergo blind tasting and a written exam. Those in the sommelier competitions also take part in a service and selling test and wine list exercise.
Sommelier of the Year wins a trip to Paris and the French wine region of Champagne as guest of Louis Roederer while the junior winner takes a helicopter tour of the Central Otago wine region as a guest of Misha's Vineyard near Cromwell.
The young professional winner gets to be part of the Herzog Harvest Weekend and vintage at Yealands Estate in Marlborough.
Entries close on (31 August, 2014) and further details are at http://www.foodandwine.co.nz/Sommelier_Comp
About the Wine and Food Event
The New Zealand Wine and Food Event is an annual two-day public event in Auckland comprising a showcase of New Zealand and international wine, cooking workshops and master classes. In 2014 these include presentations by US-based Master of Wine Tim Hanni and renowned cheese expert Juliet Harbutt. The event is organised by Auckland-based New Zealand School of Food and Wine and includes wine tasting opportunities as well as other wine and food education opportunities. The 2014 Wine and Food New Zealand event runs from September 14 to 22 at the New Zealand School of Food and Wine in Auckland's Customs St West