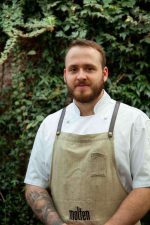 Molten Restaurant in Mt Eden has a new head chef in Alex Aitken, who takes over from Rensha Bouwer.
Owned by experienced restaurateurs Sven Nielsen and Ben Blair, Molten first opened its doors in August 2003 and Nielsen and Blair purchased it in 2011. In 2015, they subtly but effectively repositioned Molten as a neighbourhood bistro with a more relaxed and casual environment and more accessible prices. The main dining room, a wine bar, courtyard, and two private dining rooms are all housed within two adjoining heritage buildings in Mt Eden Village and dating from the 1850s. Molten's menu celebrates produce sourced directly from supplier growers, farmers and fishermen with larger cuts of meat gracing the menu reflecting a growing global trend for 'feasting'.
Aitken comes to Molten from The Grove, where he worked under award winning executive chef Ben Bayly as junior sous chef. Molten co-owner Sven Nielsen says Aitken brings strong technical skills to the role.  "Alex is an accomplished chef whose passion is to create and present delicious food of the very highest quality and standard.
"We are also impressed with his versatility which is evident in his sound knowledge of both classical and modern cooking principles and methodologies," Nielsen says.
At Molten, Aitken has recently completed refreshing the entire menu, which celebrates produce sourced directly from supplier growers, farmers and fishermen. "The relationship between chefs and their suppliers is key," says Aitken. "It's important to have a massive respect for ingredients and know where your food comes from.
"Our suppliers are vital to our cooking process, from the likes of Bill French at Leelands Lamb in Waitaki to our friends at Pokeno Butchers next door."
Aitken adds the new menu has a refined bistro feel with fine dining techniques while maintaining neighbourhood bistro prices. "Our new menu will change regularly to reflect the changing seasons and showcase the best ingredients available – like with our smoked duck breast dish that has textures of beetroot and rhubarb, and a vanilla cauliflower puree."
Born in Edinburgh, Aitken has dual New Zealand and British citizenship after immigrating with his family in 1996. He has a Diploma in Culinary Arts from the School of Hospitality and Tourism at Auckland University of Technology as well as a level 4 Certificate in Professional Cookery.
Prior to The Grove, he held head chef, sous chef and senior chef de partie roles at a range of Auckland establishments including Mexico Restaurant, Cibo and Habourside Bar & Grill.