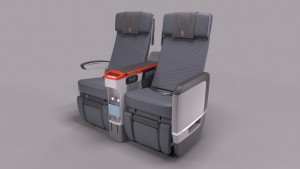 Customers travelling in Singapore Airlines' new Premium Economy Class can look forward to a wide range of in-flight offerings including a Premium Economy Book the Cook service, champagne and curated wines, a specially-designed collector's edition amenity kit and the world's most advanced in-flight entertainment system.
In addition to three main courses to choose from on board, customers can select their meals before travel by opting for the Premium Economy Book the Cook service. Choices include Seafood Thermidor, Roasted Chicken in Garlic Cream Sauce, Rosemary Beef Brisket, Roasted Chicken Rice, Pork Congee with Century Egg, Spiced Chicken Nasi Biryani, Nasi Lemak with Fried Chicken, and Pancakes with Maple Syrup and Scrambled Eggs.
Customers will also be able to pair their choice of meal with a glass of Ernest Rapeneau Brut Prestige champagne, which will be available throughout the flight on all routes offering Premium Economy, or pick from a selection of curated wines.
Complementing the specially designed new seat, which has a width of either 18.5 or 19.5 inches depending on aircraft type, with an 8-inch recline, Premium Economy Class will feature the next-generation KrisWorld, Singapore Airlines' award-winning in-flight entertainment system. Based on hardware from Panasonic Avionics, with a customised user interface and a large selection of content, it is the world's most advanced in-flight entertainment system. The 13.3-inch full HD monitor is also the largest in its class.
Customers travelling in Premium Economy Class will also receive an amenity kit that will come in exclusive limited editions, initially featuring SG50 motifs to commemorate Singapore's 50th birthday. The amenity kit, which consists of a toothbrush, toothpaste and a pair of anti-slip socks, is designed as a collectible item, and pouches can be clipped together.