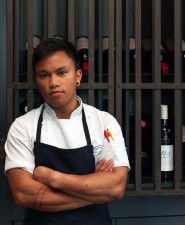 New Zealand's next generation of Matt Lamberts, Michael Merediths and Nic Watts may have been discovered.
The five chefs chosen to take part in the inaugural Ōra King Next Generation mentoring programme have been announced together with their selected mentors, with three South Island and two North Island based chefs aged from 19 to 30 years making the grade.
The Ōra King Next Generation chefs for 2016 are:
Clement Mathon (30), pastry chef, True South Dining Room, The Rees Hotel & Luxury Apartments, Queenstown – matched to mentor Andrew Brown – Dragons Den, Christchurch.
Daryl Remaneses (20), junior chef de partie, Baretta, Christchurch – matched to mentor Chetan Pangham, One80 Restaurant, Copthorne Hotel, Wellington.
Harrison McIntyre (21), apprentice chef, SKYCITY conventions, kitchens and catering, Auckland – matched to mentor Simon Green – Halo Restaurant, Trinity Wharf Hotel, Tauranga.
Joelle Snook (19), commis chef, Fusion Restaurant and Café, Timaru – matched to mentor Kevin Hopgood, Hopgood's Nelson.
Maxime Gnojczak (27), junior sous chef, Restaurant One80, Copthorne Hotel, Wellington – matched to mentor Darren Johnson, MASU, Auckland.
New Zealand King Salmon marketing general manager Jemma McCowan says Ōra King is delighted with the response to the programme. "We were pleased with the competitive field of applicants who expressed their achievements and aspirations well, and as a result, narrowing the applicants down to a final selection was definitely a challenge. It really is exhilarating to see such amazing young talent coming through our restaurants," Ms McCowan says.
"These young chefs have very precise ideas on how they want to develop in the kitchen and are more than able to articulate the industry skills they feel will benefit their careers.
"We are well established with our Ōra King Awards which recognise outstanding contributions from experienced chefs working with the brand. The Ōra King Next Generation mentoring programme provides our younger talent with opportunities to learn, develop and shine," she says.
The aim of the programme is to help the successful applicants develop the necessary know-how to excel in the industry. The mentoring programme is split into two stages: one week at the allocated mentor's restaurant between 29 March and 3 May and a one day workshop in Auckland consisting of short modules, with topics covered by mentors and industry experts such as leadership, life balance, provenance, social media, trends and dish inspiration.
As part of their applications, the chefs highlighted what they wanted to learn both in the kitchen and as an industry skill and that is being factored into both stages of the programme.
For more information on the Ōra King Next Generation mentoring programme see http://orakingsalmon.co.nz/ora-king-next-generation/