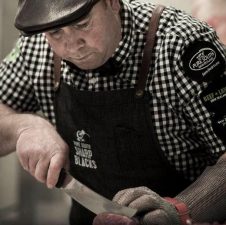 The Pure South Sharp Blacks, our national butchery team, began the countdown to the World Butchers' Challenge when they left for Australia this past weekend.
The team will defend their three-time title against the best butchers from Australia, France and the UK in this year's challenge, to be held at the Gold Coast Convention Centre on September 10.
Corey Winder from Elite Meats Bush Inn in Christchurch has captained the team since the competition's inception in 2011 and has high hopes for the days ahead. "We have selected butchers with a great mix of experience, determination and personality and I believe, if we perform our best on the day, we have what it takes to win the championship title," says Winder.
The team is made up of the nation's top six butchers and is managed by Hellers founder, Todd Heller, who will also travel across the Tasman. The four teams have three hours to turn a side of beef, pork and a whole lamb into value-added cuts to produce a world-class display based around a theme of their choice.
For the first time, a chef has been introduced to the judging panel to mark the teams on the cookability of their products and well-known chef, Sean Connolly will be fulfilling the role this year.
The 2016 Pure South Sharp Blacks, sponsored by Pure South, Beef + Lamb New Zealand and NZ Pork, are:
John Cox from New World Hillcrest
Greg Egerton from Mosgiel
Nolton Laing from Harris Meats Cheviot
Rowan Lee from New World Hokitika
Hannah Miller from Neat Meat Ponsonby
Corey Winder from Elite Meats Bush Inn, Christchurch
Also traveling to Australia are four of the country's leading young butchers to compete in two individual category competitions; The World Butchers' Challenge – Apprentice and Young Achiever. The following contestants have been selected after gaining top results at a national competition last year:
World Butchers' Challenge – Apprentice category
Ben Henry from New World Centre City, Dunedin
Hohepa Smith from Countdown Ponsonby, Auckland
World Butchers' Challenge – Young Achievers category
Alana Empson from PAK'nSAVE Clarence St, Hamilton
Luka Young from PAK'nSAVE Lincoln Road, Auckland
The delegation will be hosted by the Australian team on a weeklong study tour ahead of the competition, visiting some of the best butcher shops in Australia.