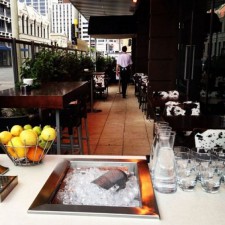 The best bars, restaurants, cafes and hotels in New Zealand have been announced as winners at this year's Hospitality New Zealand Awards for Excellence.
The range of winners across 15 categories encompasses everything from a small town country pub and provincial city restaurants, through to upmarket gastro bars and a five star hotel in the capital city.  The winners at this year's Hospitality New Zealand Awards for Excellence are:
Supreme Champion – Art Deco Masonic Hotel, Napier
Best New/Redeveloped Bar/Restaurant – The Hideaway Bar, Wellington
Best Country Hotel – Theatre Royal Hotel, Kumara, West Coast
Excellence in Host Responsibility – Christchurch Casino
Excellence in Training and Staff Development – Delaware North Wellington Airport, Wellington
Best Restaurant – Portlander Bar and Grill, Wellington
Excellence in Gaming – Yardhouse, Hamilton
Best Accommodation – Art Deco Masonic Hotel, Napier
Excellence in Customer Service – Smith and Mackenzie Chophouse, Chartwell, Hamilton
Best Café – Spruce Goose, Wellington
Best Bar – The Occidental, Auckland
Best Music Entertainment Venue – Dux Live, Christchurch
Best Beverage List – Indigo Restaurant, Napier
Best Retail Off-Licence – West Liquor Westgate Centre, Massey, Auckland
Best Dish $25 and Under – Sugarhorse Bar and Eatery, Christchurch
Best Dish Over $25 – Bolton Hotel, Wellington
Hospitality New Zealand chief executive Bruce Robertson said the wide-ranging spectrum of winners at this year's awards reflected the broad reach of the hospitality industry – and the importance the commercial sector played within the wider New Zealand economy.
"All these winners reflect an incredible amount of passion and commitment from their business owners, and that passion and commitment is ultimately passed on to their customers. They rightly deserve to be recognised as the best in their class, anywhere in New Zealand," he said.
"Unlike in many previous years, no one winner dominated the individual categories this year. The winners come not only from different geographic locations across the country, but also reflect all aspects of the food, beverage and accommodation markets.
"The degree of professionalism contained in the entries submitted by this year's award winners indicates an industry in good shape – driven by passionate and visionary business operators who are committed to delivery outstanding customer experiences," Mr Robertson said.
Entrants into the Hospitality New Zealand Awards for Excellence are judged over a seven-week period by a panel of independent industry professionals who assessed every competitor on a range of commercial and operational criteria – including staff training and human resources, customer service, marketing and promotional activities, and the demonstration of business growth.
Winners of the Hospitality New Zealand Awards for Excellence were announced at the organisation's national conference held in Nelson on October 8.