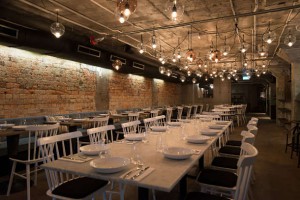 Since it opened in July last year, Cassia diners have enjoyed the restaurant's changing menus which are based on the marriage of seasonal New Zealand ingredients with the flavours of India.
Now executive chef and owner Sid Sahrawat is building on the restaurant's reputation for innovation and variety adding a new five course tasting menu to complement Cassia's á la carte selection.
It comprises both new dishes designed specifically for the menu as well as courses from the a la carte list. Sahrawat calls it a new Cassia experience, comprising as it does an opportunity to try more courses than would normally be possible.
"And while it's a new Cassia experience it's also an opportunity for the kitchen to be extra creative in the menu design," Sahrawat says. "We expect the tasting menu to build on our current loyal customer base and be an attractive option for food lovers especially new diners."
The Cassia tasting menu – which changes monthly – is available for dinner Tuesday to Saturday from 5.30pm running in conjunction with the normal menu. Dietary requirements can be easily catered for on an individual basis although Cassia asks that all guests at the table dine from the same menu.
The menu is available at $70 per person and there is a wine pairing option to accompany each course for $45 in total.